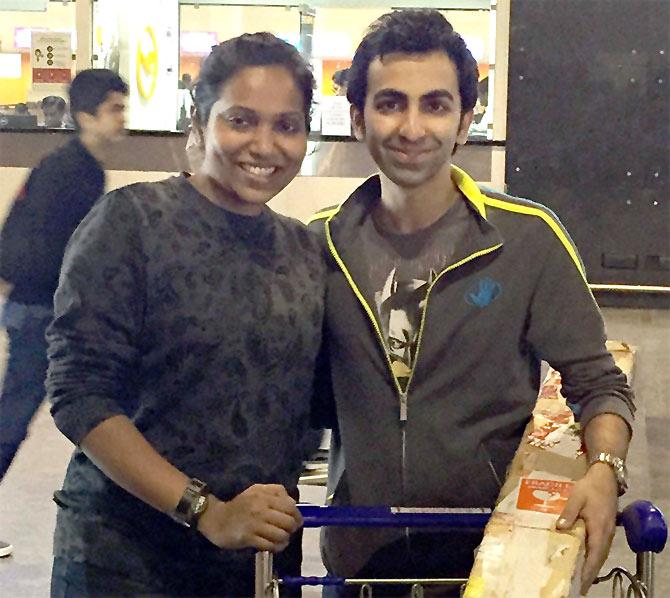 IMAGE: Cueists Pankaj Advani and Vidya Pillay on their arrival at the international airport in Bengaluru. Photograph: PTI
He has achieved a legendary status after pocketing 15th world title and India's most celebrated cueist Pankaj Advani derives a lot of satisfaction from the fact that he has successfully managed the tough balancing act of playing snooker and billiards at such a high level.
Advani clinched the IBSF World Snooker Championship after battling past 18-year-old Chinese cueist Zhua Xintong in Egypt on Saturday to pocket his fourth snooker title. Bengaluru's 'Golden Boy' has 11 World Billiards titles to his name and he admits that juggling between formats is not an easy task.
"I am playing competitive cuesport throughout the year. Extremely happy to be playing Billiards and Snooker and achieving in both. People who follow the game will now how tough it is to juggle with formats and manage billiards and snooker at a very high level," Advani told PTI in an interview.
For a cuesport veteran, who won the IBSF World Snooker Championship in 2003 on his competitive debut, Advani has sure come a long way to be recognised as a 'great' of the game. He feels on top of the world.
"It feels absolutely great to be given those names and titles and the stuff that is said about you. It just wonderful to take cuesports to great heights and represent the country and win medals," he said.
"I believe that whenever you go out there you have to prepare for the best possible outcome, so yes, it just feels on top of the world right now that I can actually win gold medals for the country in cuesports," he added.