'I really wanted to do it for you guys'
'I could see all the fans on every lap in the corner of my eye and it spurred me on'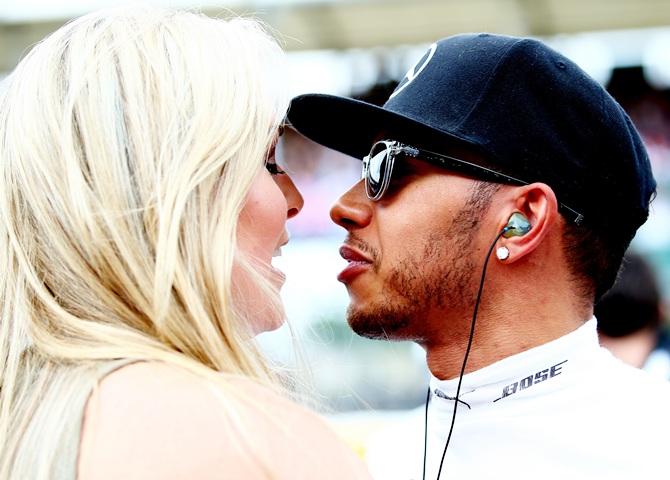 Great Britain's Lewis Hamilton speaks with USA's Olympic skier Lindsey Vonn before the Formula One Grand Prix at Silverstone Circuit. Photograph: Mark Thompson/Getty Images
Formula One world champion Lewis Hamilton soaked up the energy of a roaring home crowd to win the British Grand Prix for the second year in a row on Sunday and forge 17 points clear of Mercedes team mate Nico Rosberg.
Hamilton wins British Grand Prix in Mercedes one-two
Germany's Sebastian Vettel finished third for Ferrari, behind Rosberg, with Williams driver Felipe Massa bumped off the podium after leading for the first 20 laps following a blistering start.
On a tricky afternoon of safety cars, sunshine and showers Hamilton timed his tyre strategy to perfection to chalk up his 38th career win and fifth of the season -- and get his hands on a 'proper' gold trophy.
The victory in front of an estimated 140,000 fans -- a timely reminder of the sport's enduring appeal despite doom-laden headlines -- made Hamilton only the third Briton, after Jim Clark and Nigel Mansell, to win three times at home.
"I really wanted to do it for you guys," he told the crowd from the podium. "I am so thankful for all the support. I could see all the fans on every lap in the corner of my eye and it spurred me on.
'I am so elated you cannot imagine'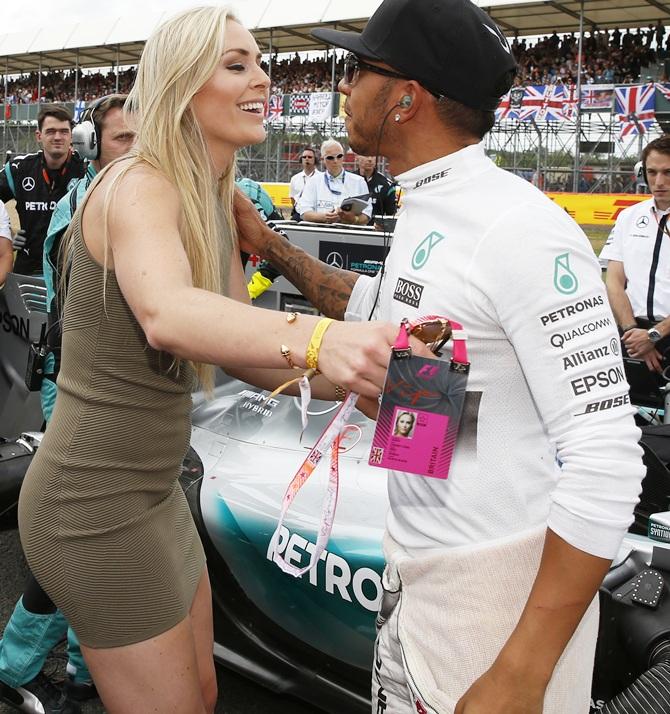 USA's Olympic skier Lindsey Vonn kisses Lewis Hamilton before the race. Photograph: Phil Noble/Reuters
The Briton, who had complained about poor grip on his way to the grid, made a sluggish start from pole position as Massa roared through from the second row to lead into the first corner.
"I am so elated you cannot imagine," he said after a day that could so easily have gone badly wrong.
Rosberg, who was fourth at the end of the first lap, said his team mate had timed it exactly right in pitting for intermediates just as the rain began to come down hard.
The German stayed out for another slippery lap before also pitting.
"I was pushing hard to try and catch Lewis under difficult conditions but he made the better call and that is where I lost it. Fair play to him," said the German, who now has 177 points to Hamilton's 194.
Mercedes, with their sixth one-two of the season, took another massive step towards retaining the constructors' title and have 371 points to Ferrari's 211.
Troubled season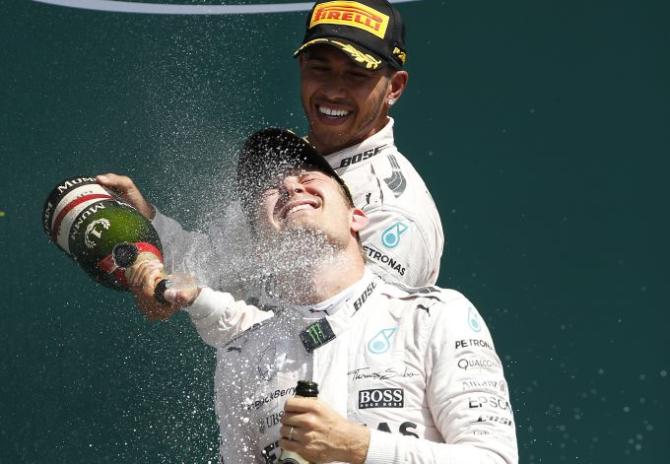 Mercedes' Lewis Hamilton celebrates his win on the podium with the champagne and Mercedes' Nico Rosberg. Photograph: Phil Noble/Reuters
The safety car was deployed for two laps after Lotus drivers Pastor Maldonado and Romain Grosjean collided on lap one, with McLaren's Fernando Alonso also spearing into his team mate Jenson Button.
Button retired but Spaniard Alonso stayed in the race and finished lapped but 10th for his first point of a troubled season.
Bottas passed Hamilton for second at the re-start when the safety car came in and the unexpected possibility of a first Williams one-two since 2003 turned the race into a rare thriller.
While the pit wall told Bottas initially to hold position to help the Williams duo pull away together, the Finn was determined to race.
"I'm going to overtake," he said. "I can do it on the back straight."
Massa still held him off until the first stop, with Mercedes trying in vain to fool their rivals into pitting early by deploying their own mechanics in a dummy run that came to nothing.
When the Brazilian did come in, it was with Rosberg in tow and the pair left side by side with Massa just squeezing in front at the last moment.
"This is a straight fight to the end, we are racing all cars around us," Massa was told, but in the end it came down to the weather and tyre choice with Rosberg passing for second place on lap 41.
Only 13 cars finished, with Sauber's Brazilian Felipe Nasr retiring before the start when his car was stuck in sixth gear on the track as he headed for the grid.
A virtual safety car also came into play on lap 34 when the Toro Rosso of Spaniard Carlos Sainz stopped on the runoff and had to be removed with a tractor.
Bottas finished fifth, ahead of Red Bull's Russian Daniil Kvyat, while Ferrari's Kimi Raikkonen was eighth and sandwiched between the Force Indias of Nico Hulkenberg and Sergio Perez in seventh and ninth.