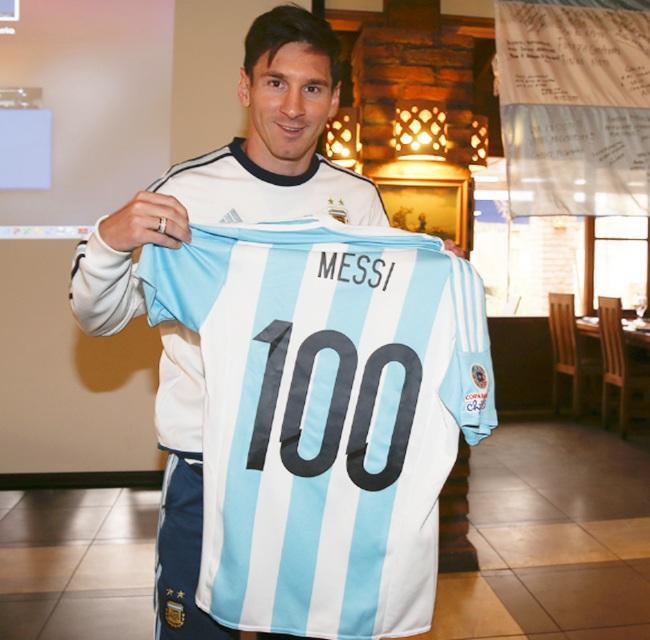 Lionel Messi poses with his jersey after making a hundred appearances for his country, Argentina. Photograph: Facebook
Barcelona and Argentina football star Lionel Messi turned 28 today.
Here come the ridiculously hot soccer dads
The striker recently won his 100th Argentina cap when he started the Copa America Group B match against Jamaica.
"Ever since I was a kid, my dream was to play for Argentina. I reached my 100th game and I'm very happy to have achieved it. There's nothing I can feel more proud of and more exciting than representing my country. I hope I can play for many more years. Now, it's time to win the Cup," he said.
As the mercurial footballer rings in his 28th birthday, Rediff.com brings you all the exciting moments from his life.
Born June 24, 1987 in Rosario, Argentina.
Early career
* Messi was diagnosed with a growth hormone deficiency when he was 11 years old
* Joined Barcelona as a 13-year-old in 2000 and shone in the youth ranks before then-coach Frank Rijkaard gave him his senior debut at the age of 16 in a friendly against Porto in 2003.
* Made his La Liga debut in October 2004 and scored his first La Liga goal the following May in a match against Albacete at the Nou Camp.
* Scored six goals in 17 appearances in 2005-06 as Barca won La Liga for the second year in a row but did not feature in their 2-1 victory over Arsenal in the Champions League final.
* Messi played a key role as Barca claimed six trophies in the calendar year of 2009 including the Champions League, La Liga, the King's Cup and the Club World Cup. Won the first of four consecutive World Player of the Year awards.
* Won La Liga again in 2010 and retained the World Player award, beating shortlisted Spanish World Cup winners and Barca team mates Andres Iniesta and Xavi.
* Inspired Barcelona to a 3-1 win against Manchester United in the 2011 Champions League final, scoring one goal and creating another.
* Helped Barca to a third consecutive La Liga title in 2010-11 and was on the scoresheet as they beat Santos 4-0 to win the Club World Cup.
* While Barcelona failed to retain either La Liga or the Champions League, Messi completed 2012 with an extraordinary total of 91 goals in all competitions, a record for a calendar year. He smashed the La Liga scoring record for one season in 2011-12 with 50 goals.
* Equalled the Champions League scoring record of 71 goals set by former Real Madrid and Schalke 04 forward Raul when he struck twice against Ajax Amsterdam this month.
Argentina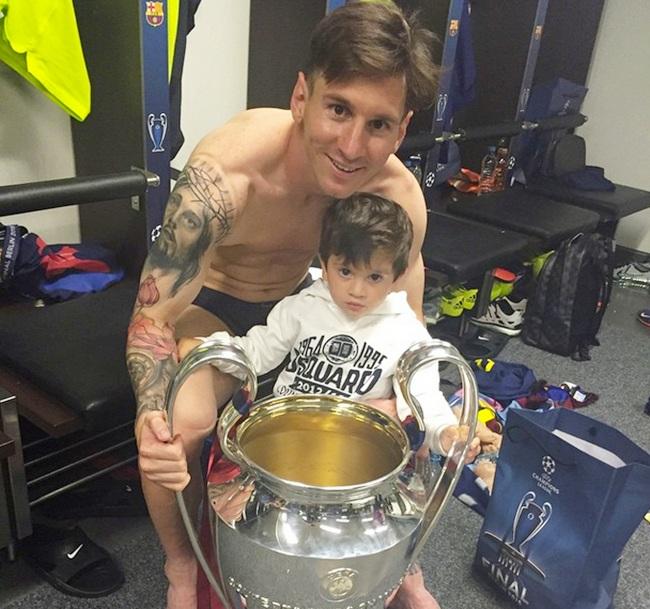 Lionel Messi with his son, Thiago. Photograph: Facebook
* Led Argentina to the title at the 2005 World Youth Championship, scoring two penalties in a 2-1 victory over Nigeria in the final.
* Made his debut for the senior side in a friendly against Hungary in August 2005 but was sent off less than a minute after coming on as a substitute for elbowing an opponent who had pulled his shirt.
* Played only a bit-part role at the 2006 World Cup. Argentina were knocked out in the quarter-finals by hosts Germany after a penalty shootout.
* Led Argentina to the gold medal at the 2008 Beijing Olympic Games.
* Part of the Argentina side coached by Diego Maradona at the 2010 World Cup that was beaten 4-0 by Germany in the quarter-finals. Messi failed to score and struggled to find his best form at the tournament in South Africa.
* After a season disrupted by injury, captained Argentina to the final of the 2014 World Cup in Brazil, where they lost 1-0 to Germany. Messi, who scored four goals at the finals, won the Golden Ball award for the tournament's best player.