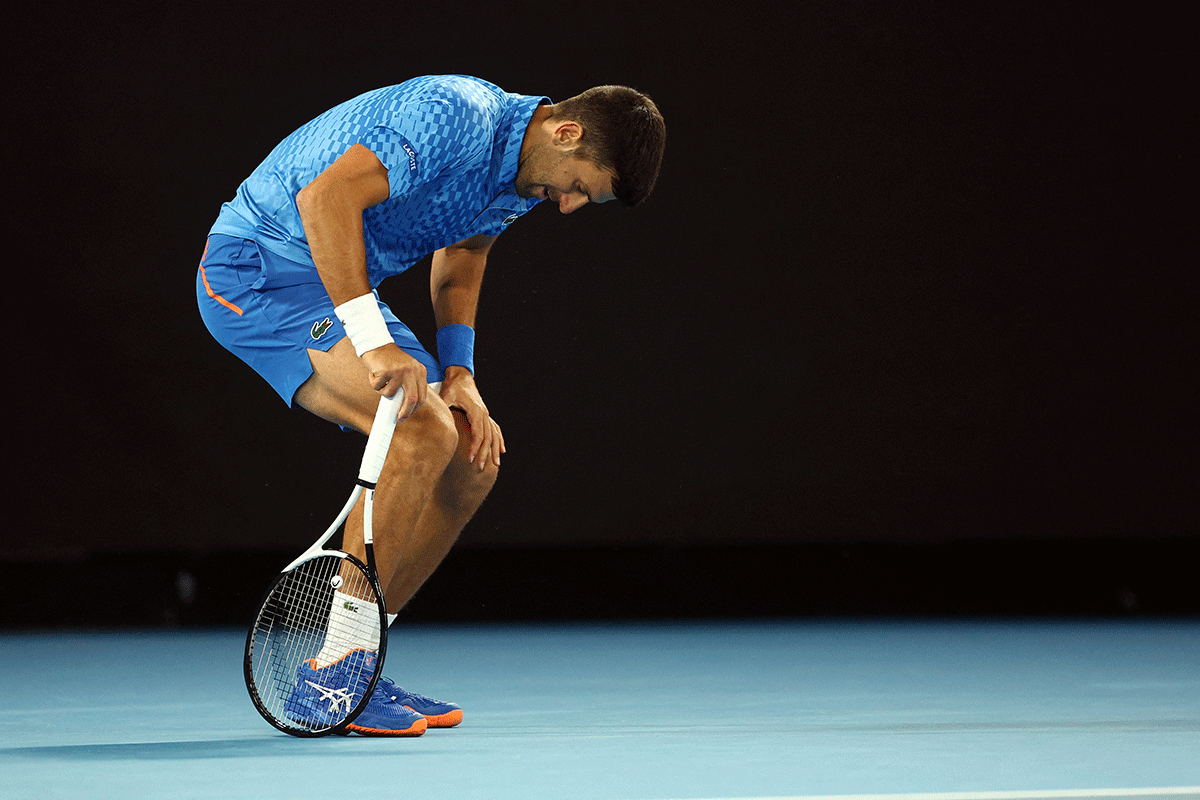 Novak Djokovic said he is taking things one day at a time as he looks to manage a hamstring injury that hampered him during his 6-1, 6-7(5), 6-2, 6-0 win over French qualifier Enzo Couacaud on Thursday.
Djokovic hyper-extended his left hamstring during a tune-up event in Adelaide earlier this month.
The 35-year-old has had his thigh strapped up in subsequent matches, and took a medical timeout at 4-4 in the second set of his win on Thursday to receive treatment and have the strapping changed.
The Serbian is no stranger to dealing with injury at Melbourne Park, having suffered a painful muscle tear in his abdomen en route to winning his record-extending ninth Australian Open title in 2021.
When asked if he could play another five matches with his injury, Djokovic told reporters, "There are two choices: leave (the tournament) or keep going. So I'm going to keep going"
"I know matches are only going to get tougher for me from here. Two years ago I had kind of similar circumstances here in Australia with a different muscle where I had a tear and I had to deal with that. Somehow I pushed it through and won the tournament."
"But it's different now, obviously. I don't know how my body's going to react. I hope for the best. I hope for the positive outcome. I'll take it day by day, match by match, and see how it goes."
Djokovic also had to contend with hecklers during his second-round win, with one fan attracting his ire in the fourth set after repeatedly making noise while he was preparing to serve.
In an irritated exchange with the umpire, the former world number one called on officials to do something about the disturbance. Four men in fancy dress were subsequently escorted from the arena.
"I can tolerate five, six times somebody telling me something, but there is a limit," Djokovic said.
"That limit was crossed, and I stepped in and I asked the chair umpire, is he going to do something about it or not? He did, and I thanked him."
"I feel like it's unnecessary for me or any other player to be put in this position after a long time that match is already going, during the match has already been two hours."
"It's plenty of time for the supervisor, chair-umpire, whoever is responsible, to react before a player."
Djokovic next faces Grigor Dimitrov on Saturday.