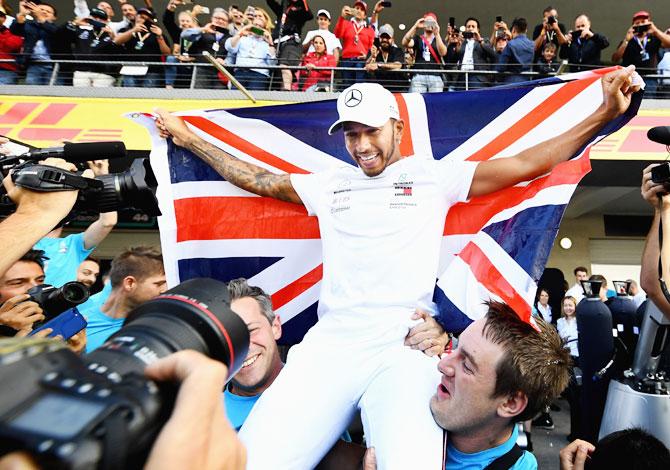 Lewis Hamilton celebrated his fifth Formula One world championship and joined an elite trio of greats on Sunday after a Mexican Grand Prix won by Red Bull's Max Verstappen for the second year in a row.
The Mercedes driver, who equalled the five titles of late 1950s Argentine great Juan Manuel Fangio with only seven times champion Michael Schumacher above them, finished fourth while Ferrari rival Sebastian Vettel was second.
Hamilton had needed only five points to be sure of the title while four times champion Vettel had to win to have any hope of denying the Briton.
"It's something I dreamed of, but I never in a million years thought I'd be stood here as a five-time champion," the 33-year-old told Sky Sports television.
"I'm so grateful for everyone who helped me be here, to raise the bar and lift the cup.
"It wasn't won here, just throughout the season and a lot of hard work," added the 33-year-old after doing smoking 'donuts' in front of a 130,000-strong crowd who witnessed a rare race without a Mercedes driver standing on the podium.
"To complete this when Fangio did it with Mercedes is an incredible feeling and very surreal."
Team boss Toto Wolff hailed Hamilton as a well-deserved champion.
"He has really been the dominant driver this year," said the Austrian.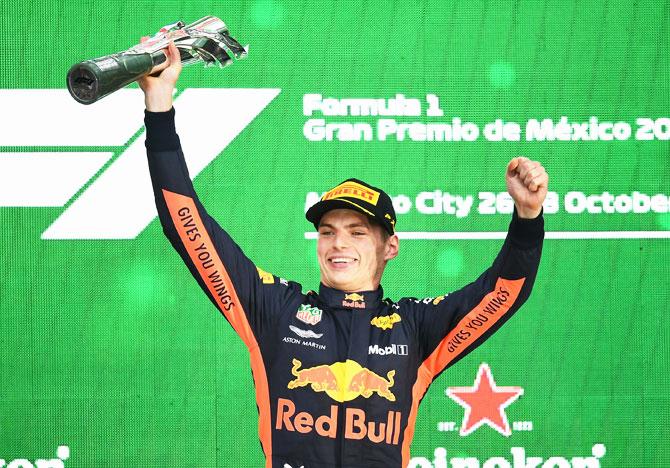 Ferrari's Kimi Raikkonen was third, meaning the constructors' championship remained open at least until the Brazilian Grand Prix in two weeks' time with Mercedes' lead trimmed.
In a nice sporting gesture, Hamilton hugged Vettel and then ran back to the Mercedes garage to embrace his teammates one by one.
"I think he drove superbly all year and was the better one of us two," said the German, whose season unravelled after the August break.
"I told him 'well deserved' and to enjoy it. Number five I think is something incredible.
"I asked him to keep pushing for next year. I need him at his best to fight him again."
Australian Daniel Ricciardo, Verstappen's teammate, retired from the race with a smoking engine after starting from pole position.
Team principal Christian Horner described that eighth retirement in 19 races as "absolutely gutting', with Red Bull fretting about whether he would make it to the finish.
"It was a shame to lose Daniel," said Verstappen, who had been angry on Saturday after missing out on pole.
"I think we could have had a one-two or at least two cars on the podium."
The Dutch driver seized the lead at the start, with Hamilton also making a quick getaway to slot in behind with Ricciardo dropping to third.
But in a high-altitude race of attrition, with tyre wear playing a huge part in the outcome, the champion was unable to match the pace and had no need to take any risks either.
"There's nothing left guys, these tyres are dead," Hamilton said after running off the track on lap 47. His Finnish teammate Valtteri Bottas finished fifth but lapped by Verstappen.
As he crossed the line to take the title in Mexico for the second year in a row, Hamilton heard a message from Hollywood actor Will Smith come over the radio: "That's how you do it, just like that. That's how you're supposed to drive."
But the afternoon was one of his hardest of the season, the Briton off the podium for the first time since a race retirement in Austria at the beginning of July.
Nico Hulkenberg was sixth for Renault, who had Spaniard Carlos Sainz retire early on, with Charles Leclerc seventh for Sauber.
Stoffel Vandoorne enjoyed a rare afternoon of success, finishing eighth for McLaren, while Sauber's Marcus Ericsson was ninth and Pierre Gasly 10th for Toro Rosso.