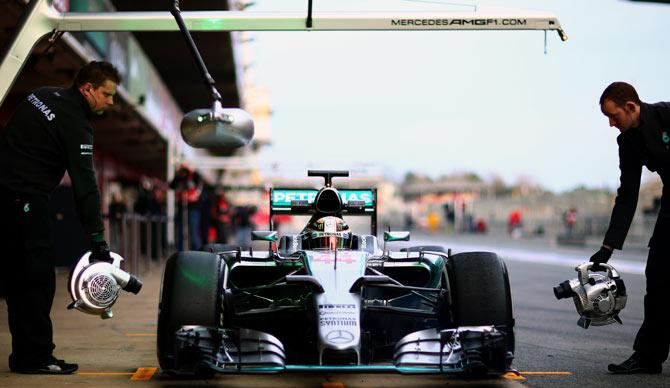 Lewis Hamilton of Mercedes GP in the garage during day three of Formula One Winter Testing at Circuit de Catalunya. Photograph: Mark Thompson/Getty Images
Ever since he was a little boy, Lewis Hamilton has been besotted by Ayrton Senna. More than 20 years after the Brazilian's death, little has changed.
- What's new in Formula One for 2015

Even with a second Formula One world championship under his belt, Hamilton remains driven by the prospect of matching the feats of his childhood hero.

Finally this year, Hamilton will get his chance to equal Senna's tally of three world titles. It is a goal that has the Englishman giddy with excitement.

"I always wanted to do what Ayrton did," Hamilton told a news conference on Thursday ahead of this weekend's season-opening Australian Grand Prix.

"Ayrton was my favourite driver and I guess as a kid I always wanted to emulate him."

Hamilton is the early favourite to win this year's title after clinching the 2014 crown ahead of his team mate Nico Rosberg.

The 30-year-old won six of the last seven races last season and spent the off-season being feted like a rock star, strolling the red carpet and being showered with awards.

Once he got back behind the wheel, things quickly fell into place and he was right on the pace with his Mercedes in early season practice.

But the Australian Grand Prix has not been a happy hunting ground for Hamilton. In his eight previous trips to Albert Park, he has won the race just once, in 2008, when he won his first world title while driving for McLaren.

Senna also won in Australia just twice. His second win, in 1993, was his last Grand Prix victory before he was killed after crashing in the 1994 San Marino race.

Last year, Hamilton started on pole position in Australia but retired after just two laps because of engine problems. Rosberg won the race but the Englishman went on to win the championship.

"I don't see it a particular exaggerated importance to any other time," Hamilton said.

"Of course you come here and you'd like to start off on the right foot, as I did want to last year. But there's a long, long way to go so it's not the most important start of the year."

With the new season yet to start, Hamilton is already planning for his future, negotiating with Mercedes about his next contract.

Mercedes motorsport boss Toto Wolff told reporters on Thursday that talks are "down to the details" and while a tight-lipped Hamilton offered little more, he did say: "It's going good... but it's not signed yet."