'Ayrton, I know for many of you was your favourite driver and it was the same for me. He was the one who inspired me to be where I am today. So to match him, and to receive this, is the greatest honour'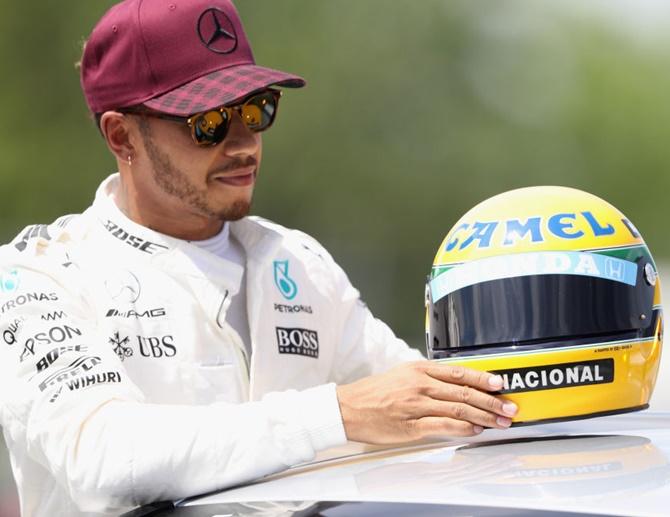 IMAGE: Pole sitter Lewis Hamilton of Great Britain and Mercedes GP with a commemorative helmet of F1 legend Ayrton Senna after he beat the previous record of 65 pole positions during qualifying for the Canadian Formula One Grand Prix. Photograph: Mark Thompson/Getty Images.
Triple world champion Lewis Hamilton produced a moment of Montreal magic on Saturday to put his Mercedes on pole position for the Canadian Grand Prix and equal Ayrton Senna's career haul of 65.
The Briton's third pole in a row in Canada equalled Michael Schumacher's record of six at the Circuit Gilles Villeneuve, but it took a stunning lap worthy of his late Brazilian hero Senna to do it.
After Ferrari had dominated the day's final practice, Hamilton moved it up a level with a lap faster than any previously recorded at the sun-bathed island circuit.
Then, with Ferrari's championship leader Sebastian Vettel piling on the pressure with a time only 0.004 slower, the Briton went even faster to finish with a flourish and a lap of one minute 11.459 seconds.
"It was a sexy lap. It was a great lap. I can't believe that it came together so well," he said.
"At the time while doing the lap I had no comprehension that I was going for my 65th. I had completely forgotten that. It was just about the here-and-now."
The pole, which left him three adrift of Schumacher's all-time record of 68, came 10 years on from the first of his Formula One career at the same track with McLaren in his rookie 2007 season.
Vettel, a four times world champion with Red Bull who leads Hamilton by 25 points after six races, qualified second for Sunday's race.
Finland's Valtteri Bottas, who replaced retired 2016 champion Nico Rosberg at Mercedes in January, qualified third with Ferrari's Kimi Raikkonen, the polesitter in Monaco two weeks ago, fourth.
Red Bull will make up the third row with young Dutchman Max Verstappen qualifying fifth alongside Australian team mate Daniel Ricciardo.
After qualifying, Hamilton was presented with one of Senna's race-worn helmets -- a gesture from the Brazilian driver's family that left him moved and momentarily stunned.
"I'm shaken, I'm speechless," he said, standing in front of the crowded stands with the gift.
"Ayrton, I know for many of you was your favourite driver and it was the same for me. He was the one who inspired me to be where I am today. So to match him, and to receive this, is the greatest honour."
Senna, also a triple champion, died in a crash at Italy's Imola circuit in 1994.
It was a scintillating duel between Hamilton and Vettel, adding another line in what is shaping up as a season long fight.
"He (Hamilton) was the better man today but I am not entirely happy," said the German, winner of three of six races so far, compared to Hamilton's two.
"Nevertheless I feel the car is very good, I was really happy this morning, I was happy this afternoon and it should be very good in the race so I'm looking forward to tomorrow."
While Mercedes celebrated a return to form, the struggles continued down the paddock at McLaren as double world champion Fernando Alonso, back from his Indianapolis 500 adventure, failed to get out of the second qualifying and will start 12th.
The Spaniard's Belgian team mate Stoffel Vandoorne had an even more frustrating day and will start 16th in the 20 car field.
Pressure has been mounting on McLaren's engine partner Honda to deliver but no upgrades have been ready for Montreal and the team continues to languish down the timesheets.
Canadian teenager Lance Stroll disappointed the large flag-waving home crowd when he failed to make it out of the opening round of qualifying.
The first Canadian to race at home in Formula One since 1997 champion Jacques Villeneuve in 2006, Stroll and his Williams team are hoping the 18-year-old can snatch his first points of the season.
But he will be starting 17th and will need to produce something extra special to crack the top 10.
Williams, however, have produced good performances on the island layout with a driver on the podium for the last two years. Brazilian veteran Felipe Massa could make it three after qualifying a respectable seventh.