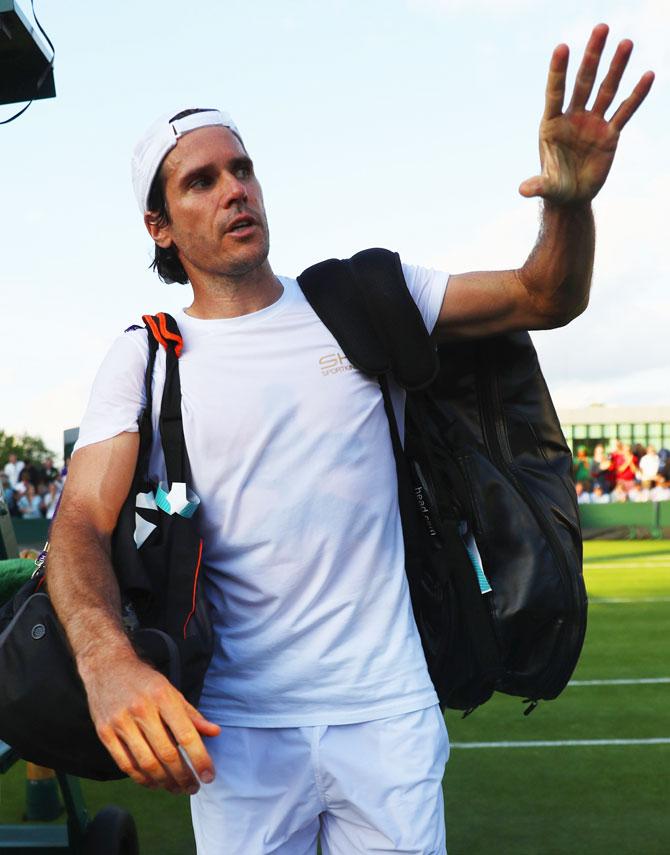 IMAGE: Germany's Tommy Haas acknowledges the crowd after losing his first round match against Belgium's Ruben Bemelmans at the Wimbledon Lawn Tennis Championships at the All England Lawn Tennis and Croquet Club in London on Monday. Photograph: Michael Steele/Getty Images
As one of only two men to have beaten Roger Federer this year, Tommy Haas might have been hoping that his Wimbledon swansong would have a fairytale ending.
It was not to be.
The 39-year-old German, awarded a wildcard for his 16th and final appearance at the All England Club, had to accept his body was "not cooperating anymore" as he slumped to a 6-2, 3-6, 6-3, 7-5 first-round defeat by Belgian qualifier Ruben Bemelmans.
Haas, who made his Wimbledon debut in 1997 when grand-slam winning compatriots Boris Becker and Michael Stich were still playing, was in reflective mood after being given a standing ovation by the crowd crammed around an intimate Court 16.
"Yeah, lots of emotions. Of course never great to lose in the first round. But happy to have been back, happy to have given it another try, happy to be playing in front of my close family, my kids," said Haas, once ranked second in the world.
"Had a few chances to win the fourth set with a couple of set points. Who knows what could have happened in the fifth, I would have loved to have played one. Yeah, that's it. Simple as that."
Yet Haas' career has been anything but "simple".
In his 21-year professional career, he has been poked and prodded by a surgeon's knife more times then he cares to remember.
Shoulders, elbows and hips have all needed medical attention at various times, but that has not prevented the patched-up German playing some of his best tennis late in his career.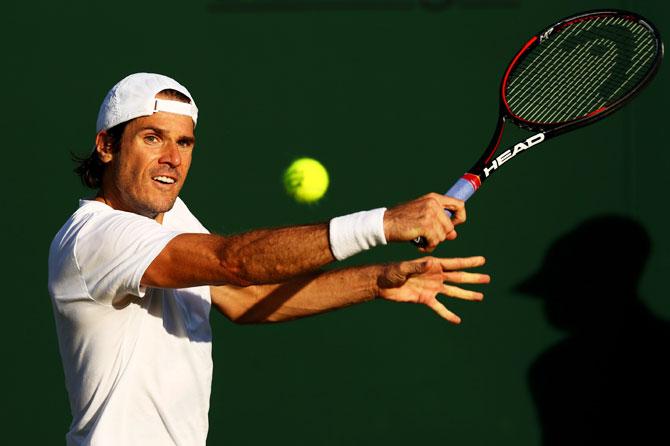 IMAGE: Tommy Haas has been on the circuit for 21 years. Photograph: Michael Steele/Getty Images
What he is capable of producing was in evidence just three weeks ago when, ranked 302, he stunned the sporting world by humbling Federer in the first round of the grass court tournament in Stuttgart.
That result earned Haas the bragging rights of being the lowest-ranked player to beat the 18-times grand slam champion since 1999 -- but it carried little weight at Wimbledon on Monday.
Instead of looking forward to another match, Haas was left to nurse his sore body and reflect on a wealth of memories.
"I have been on the tour for so long, there are so many highs and lows," said Haas, who earlier this year presented Federer with the winner's trophy in his role as Indian Wells tournament director.
"It took a lot of work and effort to get back to a certain stage for me to be come back out here and give it my best and be competitive.
"As a tournament director, it was a great experience... presenting Roger, a close friend of mine, with the trophy was great.
"And then, obviously, playing him again and getting a victory over him is also unbelievable."
But no matter what his heart says, Haas knows that the time has come when he has to listen to his head and body.
"It's just tough to realise the fact that your body is not cooperating anymore. Every morning you wake up you have to hope that everything is stable," said Haas, a semi-finalist here in 2009.
"Yesterday, unfortunately, the lower back tightened up a little bit so it was tough for me to move around today.
"But I'm happy to have somehow made it out on the court and I just have to continue to fight that battle until I know it's finally done."