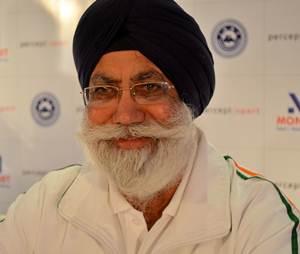 Gurbaksh Singh Sandhu has been retained national coach of the men's boxing team till the 2016 Olympics in Rio de Janeiro.
"The Indian Boxing Federation is pleased to announce that Mr Gurbaksh Singh Sandhu will be retained as the Chief National Coach of the Indian boxing team till the 2016 Rio Olympics. This decision was taken in consultation with the Sports Authority of India at New Delhi recently," read a statement from the Indan Boxing Federation, which is currently suspended.
The long-serving Sandhu, under whose guidance India won its first Olympic and World Championships medal through Vijender Singh (75kg), is with the team since two decades.
"I had retired in June this year but I am happy to get an extension. I am satisfied with the terms of my contract because my purpose is to serve Indian boxing," Sandhu said.
"I am grateful to the IBF and the Sports Authority of India for having faith in me," he added.
Sandhu, who was first appointed as chief coach in 1993, was picked for a fresh term by a committee under IBF president Abhishek Matoria.
The committee included I D Nanavati (vice-president, IBF) and Naraottam Singh Rawat (chairman, Ring Officials Commission) and they "unanimously agreed" that Sandhu is the "right man to handle the Indian Boxing Team".
"I think Indian boxing has grown by leaps and bounds so far and I would love to see it progressing ahead. That is my aim and desire," said Sandhu.
Sandhu was with the team in four Olympics, including the 2008 Beijing Games where Vijender got India its first medal in boxing -- a bronze.
The next year, he was at the helm when Vijender won the country's maiden World Championships medal -- again a bronze.
Save the slide in the past year, after the IBF's suspension, the boxers have been bringing laurels to the country.
Image: Gurbax Singh Sandhu