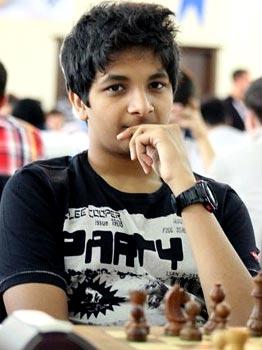 Indian Grandmasters Vidit Gujrathi and S P Sethuraman placed themselves for a medal contention as they defeated Jorge Cori of Peru and Vladislav Kovalev of Belarus respectively in the 12th and penultimate round of World Juniors Chess Championship in Kocaeli, Turkey.

The victories took Gujrathi and Sethuraman to nine points out of a possible 12 and at least one of them look set to win a medal.
- Carlsen ready to face Anand in world chess challenge

Yu Yangyi of China almost assured himself of the gold medal by beating Samvel Ter-Sahakyan of Armenia. The Chinese top seed took his tally to a whopping 10.5 points and a draw with white against Gujrathi in the last round will assure him of the title.

Alexander Ipatov of Turkey is second on 9.5 points after drawing his game with Wei Yi of China. The defending champion can also ensure the silver with a draw in the last round.

Gujrathi played white and outclassed Cori from a side variation in the Grunfeld defense game. The opening gave Gujrathi a small but lasting advantage and he was quick to pounce on a pawn in the early middle game. Cori lost another pawn and did not get the desired counter play as the Indian romped home in 37 moves.

Sethuraman had to work harder against Kovalev from a King's Indian defense by the latter. Sethuraman went for an attack on the Kingside sensing his chances once black pushed the pawns ahead and got the advantage as Kovalev went for an error-filled plan. The game lasted 45 moves.

The other Indian boys had a mixed day. Grandmaster Sahaj Grover lost to Aleksander Indjic of Serbia while Debashish Das beat Simone De Filomeno to come within striking distance of becoming a Grandmaster.

In the girls' championship, Padmini Rout played out a hard fought draw with Alina Kashlinskaya of Russia and remained in with a chance to fight for the medal. Aleksandra Goryachkina of Russia defeated Meri Arabidze of Georgia to lead this section on 9.5 points.
Open category Standings after Round 13:
| | | | | | | | |
| --- | --- | --- | --- | --- | --- | --- | --- |
| Rank | SNo. | | Name | Rtg | FED | Pts | RtgSum |
| 1 | 1 | GM | YU YANGYI | 2662 | CHN | 10½ | 27865 |
| 2 | 2 | GM | IPATOV ALEXANDER | 2601 | TUR | 9½ | 27867 |
| 3 | 8 | GM | VIDIT SANTOSH GUJRATHI | 2565 | IND | 9 | 27378 |
| 4 | 9 | GM | SETHURAMAN S.P. | 2553 | IND | 9 | 27361 |
| 5 | 3 | GM | CORI JORGE | 2587 | PER | 8½ | 27238 |
| 6 | 12 | IM | INDJIC ALEKSANDAR | 2549 | SRB | 8½ | 26947 |
| 7 | 10 | GM | WEI YI | 2551 | CHN | 8½ | 26893 |
| 8 | 45 | IM | VAKHIDOV JAHONGIR | 2385 | UZB | 8 | 27547 |
| 9 | 55 | FM | NASANJARGAL URTNASAN | 2323 | MGL | 8 | 27244 |
| 10 | 13 | IM | DUDA JAN-KRZYSZTOF | 2534 | POL | 8 | 27222 |
| 11 | 15 | IM | DEBASHIS DAS | 2489 | IND | 8 | 26774 |
| 12 | 5 | GM | TER-SAHAKYAN SAMVEL | 2575 | ARM | 8 | 26382 |
| 13 | 27 | IM | DIMITROV RADOSLAV | 2437 | BUL | 8 | 26107 |
| 14 | 26 | IM | YNOJOSA FELIX JOSE | 2439 | VEN | 8 | 25413 |
| 15 | 19 | GM | GROVER SAHAJ | 2479 | IND | 7½ | 27227 |
| 16 | 14 | IM | STUKOPIN ANDREY | 2522 | RUS | 7½ | 26973 |
| 17 | 6 | GM | SALEM A.R. SALEH | 2570 | UAE | 7½ | 26899 |
| 18 | 70 | | WANG YIYE | 2258 | CHN | 7½ | 26875 |
| 19 | 7 | IM | KOVALEV VLADISLAV | 2568 | BLR | 7½ | 26747 |
| 20 | 40 | IM | ALI MARANDI CEMIL CAN | 2403 | TUR | 7½ | 25750 |
| 21 | 34 | IM | FIRAT BURAK | 2423 | TUR | 7½ | 24199 |
| 22 | 11 | IM | ELISEEV URII | 2550 | RUS | 7 | 27252 |
| 23 | 64 | CM | MUHAMMAD LUTHFI ALI | 2277 | INA | 7 | 27089 |
| 24 | 44 | FM | DE FILOMENO SIMONE | 2392 | ITA | 7 | 26892 |
| 25 | 18 | IM | IDANI POUYA | 2480 | IRI | 7 | 26753 |
| 26 | 16 | IM | KANAREK MARCEL | 2483 | POL | 7 | 26435 |
| 27 | 21 | IM | PETENYI TAMAS | 2468 | SVK | 7 | 26352 |
| 28 | 20 | IM | PAVLIDIS ANTONIOS | 2471 | GRE | 7 | 26352 |
| 29 | 17 | IM | NARAYANAN SRINATH | 2483 | IND | 7 | 26133 |
| 30 | 43 | FM | GEORGIADIS NICO | 2396 | SUI | 7 | 26112 |
| 31 | 23 | IM | JAVAKHADZE ZURAB | 2457 | GEO | 7 | 26082 |
| 32 | 37 | | BAI JINSHI | 2412 | CHN | 7 | 26064 |
| 33 | 42 | | LAURUSAS TOMAS | 2398 | LTU | 7 | 25838 |
| 34 | 25 | IM | DASTAN MUHAMMED BATUHAN | 2455 | TUR | 7 | 25304 |
| 35 | 54 | FM | SAIYN ZHANAT | 2337 | KAZ | 7 | 25243 |
| 36 | 39 | IM | MARTINEZ ROMERO MARTIN | 2404 | COL | 7 | 24952 |
| 37 | 29 | FM | MERIBANOV VITALY | 2433 | BLR | 7 | 24075 |
| 38 | 41 | | KURAYAN RUSLAN | 2398 | UKR | 6½ | 26407 |
| 39 | 87 | | BUYUKASIK DIYAP | 2046 | TUR | 6½ | 26399 |
| 40 | 62 | | FANG YAN | 2281 | CHN | 6½ | 26361 |
| 41 | 22 | IM | IERMITO SEBASTIAN | 2462 | ARG | 6½ | 26000 |
| 42 | 36 | | BORTNYK MYKOLA | 2417 | UKR | 6½ | 25798 |
| 43 | 38 | | SUNILDUTH LYNA NARAYANAN | 2408 | IND | 6½ | 25666 |
| 44 | 35 | IM | SANAL VAHAP | 2419 | TUR | 6½ | 25547 |
| 45 | 58 | CM | BENITEZ LOZANO JAVIER | 2308 | MEX | 6½ | 25203 |
| 46 | 31 | FM | VELTEN PAUL | 2427 | FRA | 6½ | 25164 |
| 47 | 72 | FM | TOMAZINI ALJOSA | 2251 | SLO | 6½ | 25097 |
| 48 | 75 | CM | KOKSAL EGE | 2207 | TUR | 6½ | 24358 |
| 49 | 60 | | GAEHWILER GABRIEL | 2287 | SUI | 6½ | 24317 |
| 50 | 63 | FM | TOMAZINI ZAN | 2277 | SLO | 6½ | 23524 |
| 51 | 61 | | KULKARNI RAKESH | 2283 | IND | 6½ | 23353 |
| 52 | 90 | | OZDOVER MUSTAFA BERKAY | 2005 | TUR | 6 | 26694 |
| 53 | 76 | | NURI MURAD | 2206 | AZE | 6 | 26379 |
| 54 | 51 | IM | DRAGOMIRESCU ROBIN-ALEXANDRU | 2349 | ROU | 6 | 26268 |
| 55 | 4 | GM | GRANDELIUS NILS | 2576 | SWE | 6 | 26238 |
| 56 | 98 | | UYSAL BURAK | 1928 | TUR | 6 | 26132 |
| 57 | 73 | | DOCENA JERAD | 2227 | PHI | 6 | 26024 |
| 58 | 33 | IM | BAGHDASARYAN VAHE | 2423 | ARM | 6 | 25802 |
| 59 | 69 | CM | EMIROGLU CANKUT | 2260 | TUR | 6 | 25725 |
| 60 | 59 | | RATKOVIC MILOVAN | 2302 | SRB | 6 | 25081 |
| 61 | 57 | FM | GRANDADAM NICOLAS | 2309 | SUI | 6 | 24852 |
| 62 | 66 | | CHU WEI CHAO | 2270 | CHN | 6 | 24808 |
| 63 | 67 | CM | CARNEIRO VITOR ROBERTO CASTRO | 2263 | BRA | 6 | 24804 |
| 64 | 52 | FM | LOZHNIKOV VYACHESLAV | 2339 | KAZ | 6 | 24760 |
| 65 | 56 | FM | ANTAL TIBOR KENDE | 2321 | HUN | 6 | 24705 |
| 66 | 89 | | KARAOKCU ERKIN | 2014 | TUR | 6 | 24605 |
| 67 | 65 | FM | BARROS RIVADENEIRA CRISTHIAN | 2271 | ECU | 6 | 24184 |
| 68 | 50 | FM | FRANKLIN SAMUEL G A | 2353 | ENG | 6 | 23570 |
| 69 | 71 | | ASHIKU FRANC | 2253 | ALB | 5½ | 26108 |
| 70 | 88 | | BAGLAN ESAT | 2024 | TUR | 5½ | 25597 |
| 71 | 46 | | AKHMETOV AYAN | 2382 | KAZ | 5½ | 25335 |
| 72 | 68 | | YURTSEVEN MELIH | 2262 | TUR | 5½ | 25022 |
| 73 | 79 | | SOYSAL SERKAN | 2097 | TUR | 5½ | 24094 |
| 74 | 28 | IM | FARID FIRMAN SYAH | 2433 | INA | 5½ | 24043 |
| 75 | 104 | | KITIR AHMET | 1866 | TUR | 5½ | 23776 |
| 76 | 30 | IM | WANG RICHARD | 2430 | CAN | 5½ | 22867 |
| 77 | 49 | | ASGARIZADEH AHMAD | 2354 | IRI | 5½ | 22734 |
| 78 | 84 | CM | YUKSEL ATILLA KOKSAL | 2060 | TUR | 5 | 25420 |
| 79 | 109 | | ZHANBAI UULU ZHOKHAR | 1843 | KGZ | 5 | 25321 |
| 80 | 100 | | TEMIZKAN DENIZCAN | 1921 | TUR | 5 | 25315 |
| 81 | 92 | CM | BORNHEIM CRAIG | 1973 | RSA | 5 | 25222 |
| 82 | 83 | | VUCIC MIHOVIL | 2063 | CRO | 5 | 24981 |
| 83 | 111 | | MAMYRBAY ASSAD | 1823 | KAZ | 5 | 24718 |
| 84 | 81 | FM | IGONIN TEMUR | 2074 | UZB | 5 | 24382 |
| 85 | 24 | IM | NAGY GABOR | 2457 | HUN | 5 | 24328 |
| 86 | 48 | FM | ARVOLA BENJAMIN | 2354 | NOR | 5 | 24309 |
| 87 | 32 | FM | FERREIRA JORGE VITERBO | 2426 | POR | 5 | 24120 |
| 88 | 93 | | YARGICI MAZHAR KUTAY | 1970 | TUR | 5 | 24114 |
| 89 | 47 | FM | OCHSNER BJORN MOLLER | 2366 | DEN | 5 | 23987 |
| 90 | 86 | | MEZA PONCE JERRY | 2047 | ECU | 5 | 23817 |
| 91 | 77 | | PECURICA MILOS | 2190 | MNE | 5 | 23369 |
| 92 | 74 | | NEVES PEDRO | 2212 | POR | 5 | 22785 |
| 93 | 101 | FM | PON MATT | 1919 | RSA | 4½ | 24823 |
| 94 | 96 | | ZOR ALBER KADIR | 1948 | TUR | 4½ | 24339 |
| 95 | 82 | | GUNDOGAN CEM | 2072 | TUR | 4½ | 23840 |
| 96 | 99 | | KARABAYIR MUSTAFA YILMAZ | 1926 | TUR | 4½ | 23810 |
| 97 | 95 | | THOMPSON ROBERT | 1966 | ENG | 4½ | 23664 |
| 98 | 102 | | CINGOZ OZAN | 1918 | TUR | 4½ | 23491 |
| 99 | 85 | | DU PLESSIS HEINCO | 2050 | RSA | 4½ | 23438 |
| 100 | 80 | | MEFTAHI HOUSSEM | 2076 | TUN | 4½ | 22708 |
| 101 | 108 | | KILIC EFE MERT | 1843 | TUR | 4½ | 22230 |
| 102 | 97 | | SUMER GUN | 1928 | TUR | 4½ | 18095 |
| 103 | 94 | | ZEYDAN SALIH | 1968 | TUR | 4 | 23364 |
| 104 | 105 | | SAHIN OZGUN | 1857 | TUR | 4 | 23126 |
| 105 | 107 | CM | BAASANSUREN ERDENE | 1844 | MGL | 4 | 22830 |
| 106 | 53 | | KATHMALE SAMEER | 2339 | IND | 4 | 22772 |
| 107 | 106 | | AYDIN HASAN BORA | 1848 | TUR | 4 | 22670 |
| 108 | 118 | | MESIC VEHID | 1576 | BIH | 4 | 21787 |
| 109 | 110 | | PERCIN ONDER | 1838 | TUR | 4 | 21288 |
| 110 | 114 | | ATAY SERGEN | 1713 | TUR | 4 | 21126 |
| 111 | 103 | | HEINECHEN JOHN | 1901 | PAR | 3½ | 22419 |
| 112 | 117 | | ERTEKIN OGUZHAN | 1583 | TUR | 3½ | 19221 |
| 113 | 115 | CM | GARCIA HERRERA ENRIQUE RIC | 1653 | MEX | 3½ | 18898 |
| 114 | 112 | | TOPAC AHMET EREN | 1800 | TUR | 3 | 21247 |
| 115 | 113 | | ABDRASHEV ARLEN | 1745 | KAZ | 3 | 21003 |
| 116 | 116 | | URAZ ABDULLAH KERIM | 1602 | TUR | 2 | 18448 |
| 117 | 78 | | MENDOZA RODRIGO | 2168 | BOL | 0 | 0 |
| | 91 | | FUENTES GODOY ARTURO IVER | 1992 | MEX | 0 | 0 |