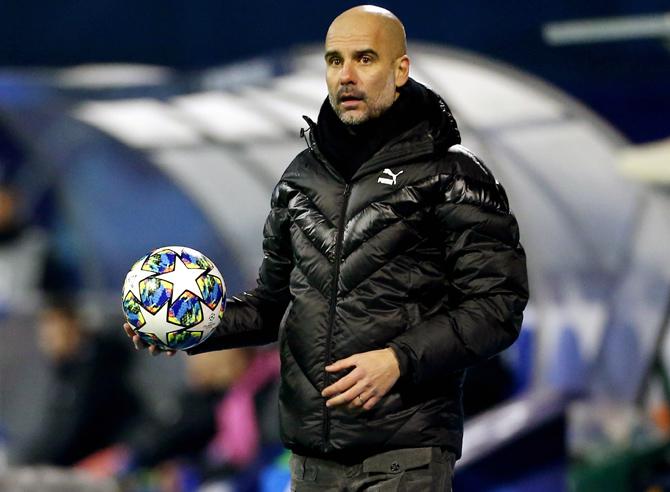 Manchester City manager Pep Guardiola says he does not know how ready his players are for the restart of the Premier League and the flood of matches to come.
Second-placed City play Arsenal, managed by Guardiola's former assistant Mikel Arteta, at the Etihad on Wednesday.
City then host Burnley next Monday, travel down to Chelsea the following Thursday and across to Newcastle United on the Sunday.
"The way we are right now...we don't know. If you ask me how is the team, I don't know. Tomorrow we will see how is the level of the team," Guardiola told reporters on a Zoom call.
"I think we are ready to play one game. But three days after another one and four days after another one. We are not ready, not just Man City, all teams."
Guardiola said his players were in good shape but expressed concern that they had only three weeks of group training to get ready after months without a match. Clubs in Germany and Spain had five or six.
"All Premier League teams have three. We know it is not enough but it is what it is," said the Spaniard.
City could be busier than any other Premier League team over the next two months, with Guardiola's team facing three games per week until August 1 because of its involvement in the FA Cup and then a potential eight-team knockout bracket to complete the Champions League in mid-August.
Guardiola said all he can go is pray that no players get injured because of the tight schedule.
In Arteta, Guardiola will be facing an old friend and while foes on the pitch he hoped he would have time to catch up afterwards.
Both have suffered over the past months, Guardiola losing his mother to the COVID-19 pandemic while Arteta caught the disease himself and had to self-isolate.
"So excited to see him...he knows absolutely everything of us, he was an incredibly important part of our success in the last years, he helped us to be who we are," said Guardiola.
"We sent a message about one hour and a half ago...It was about the wine we are going to drink after the game if social distance allows."
David Silva to see out season with Manchester City
David Silva will stay at Manchester City until the end of the Premier League season, manager Pep Guardiola announced on Tuesday.
The Spanish midfielder's contract was due to expire at the end of June, with the 34-year-old captain set to leave after 10 years with the club.
The Premier League is due to restart without spectators on Wednesday and aims to complete the season on July 26 after months of inactivity due to the COVID-19 lockdown.
"David will stay until the end of season," said Guardiola ahead of the home match against Arsenal.
"He will finish the last games without people. But hopefully he and the club can organise a proper farewell in front of people."
Silva, who joined City from Valencia in 2010, has won four Premier League titles, two FA Cups and the League Cup five times.
City's hopes of defending their Premier League title are gone, with Liverpool 25 points clear, but they remain in contention for the Champions League and FA Cup.