Grandmaster Sahaj Grover failed to capitalise on his chances and played out a draw with Iranian Pouya Idani, while Vidit Gujrathi defeated Polish Marcel Kanarek to be jointly third after the eighth round of the World Junior Chess Championship in Kocaeli, Turkey.
On what turned out to be a mixed day for the Indian boys, Gujrathi was at his technical best to squeeze out a victory with black pieces.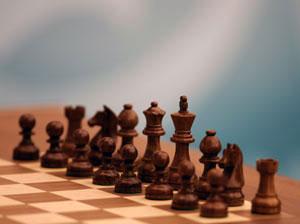 The middle game arising out of a Taimanov Sicilian was about equal and Gujrathi reached a queen and minor piece endgame where he began perfect deployment of forces to win a pawn.
Kanarek went looking for counter-play but ended up losing his queen in a tactical melee. Grover fell short of time when he needed it the most in another Sicilian Taimanov of the day.
Pouya Idani was quick to spot a tactical stroke after suffering for the major part of the game and Grover could not find the right path to exert pressure with his clock ticking away.
The result was a draw after Grover suffered some material deficit.
S P Sethuraman could not match the guile of defending champion Alexander Ipatov of Turkey and lost from a position of strength.
It was a promising middle game for the Indian out of a Queen's gambit declined but Ipatov stayed focused to pose problems for white. As it happened, Sethuraman missed the thread of the position and lost a piece and it was soon all over.
Debashish Das was the other Indian who lost from a drawn position against Vladislav Kovalev Belarus.
Yu Yangyi of China shares the lead with Ipatov on seven points and these two are now a point clear of nearest rivals, Grover, Gujrathi, Idani, Kovalev and Jorge Cori of Peru who drew with Yangyi in the eighth round.
In the girls' championship being held simultaneously, Padmini Rout showcased her attacking skills to outwit erstwhile leader Aulia Warda Media of Indonesia. It was a French Winawer by Padmini as white that led to complexities favouring her.
G K Monnisha's prospects of a norm suffered a setback when she lost to Lanita Stetsko of Belarus and the Indian will have to win a few games to come back in contention.
Among other Indians in the fray, Ivana Maria Furtado also suffered a setback while Shristi Shetty and Anjana Krishna also lost their games. Riya Sawant and J Saranya won while Rucha Pujari was held to a draw.
Irina Bulmaga of Romania and Alina Kashlinskaya of Russia share the lead in this section on 6.5 points each. Padmini Rout shares the third spot with three others on six points.
Important and Indian results round 8 open (Indians unless stated): Yu Yangyi (Chn, 7) drew with Jorge Cori (Per, 6); S P Sethuraman (5.5) lost to Alexander Ipatov (Tur, 7); Idani Pouya (Iri, 6) drew with Sahaj Grover (6); A R Salem Saleh (Uae, 5.5) drew with Urii Eliseev (Rus, 5); Debashis Das (5) lost to Vladislav Kovalev (Blr, 6); Marcel Kanarek (Pol, 5) lost to Vidit Gujrathi (6); N Srinath (5.5) drew with Wei Yi (5.5); Samvel Ter-Sahakyan (Arm, 5.5) beat Tomas Laurusas (Ltu, 4.5); Milovan Ratkovic (Srb, 4) lost to S L Narayanan (5); Gun Sumer (Tur, 4.5) beat Sameer Kathmale (3.5); Rakesh Kulkarni (4) beat Erkin Karaokcu (Tur, 3).
Girls: Irina Bulmaga (Rou, 6.5) drew with Meri Arabidze (Geo, 5.5); Alina Kashlinskaya (Rus, 6.5) beat Deysi Cori (Per, 5.5); Padmini Rout (6) beat Aulia Warda Medina (Ina, 5.5); Aleksandra Goryachkina (Rus, 6) beat Mitra Hejazipour (Iri, 5); Andrea Paula Rueda Rodriguez (Col, 5) lost to Zhansaya Abdumalik (Kaz, 6); Sarasadat Khademalsharieh (Iri, 5) drew with Wang Jue (Chn, 5); Anna Styazhkina (Rus, 5) beat Ivana Maria Furtado (4); G K Monnisha (4) lost to Lanita Stetsko (Blr, 5); Rucha Pujari (4.5) drew with Vlada Sviridova (Rus, 4); Sarvinoz Kurbonboeva (Uzb, 4.5) beat Shristi Shetty (3.5); Anjana Krishna (4.5) beat Ayelen Martinez (Arg, 3.5); Nur Guney Gamze (Tur, 3.5) lost to J Saranya (4.5); Riya Savant (4) beat Ezgi Adanmis (Tur, 3).