French Formula One driver Romain Grosjean, whose future with the Lotus team is yet to be confirmed, beat Sebastian Vettel and Michael Schumacher on his way to winning the Race of Champions event in Bangkok on Sunday.
Dubbed a 'first lap nutcase' by Australian Mark Webber after he caused a number of collisions this year, including one in Belgium that got him banned for a race, Grosjean showed a steadier side to his talents.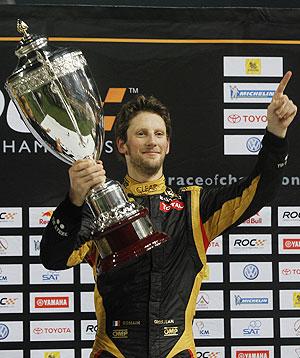 After beating Red Bull's triple champion Vettel in the quarter-finals and seven-times F1 champion Schumacher in the semi-finals, Grosjean went on to defeat Denmark's eight-times Le Mans 24 Hours winner Tom Kristensen in the best-of-three race final at the Rajamangala Stadium.
"It's been a tough end to the Formula One season but I finally got back on the podium yesterday and now this," Grosjean, who lost the team final to the German pair on Saturday, said on the event website.
"It's great to get this win before I head off for a holiday," added the 2011 GP2 champion.
The annual event pits winners and champions from various motorsport series against each other over several rounds in identical machinery.
Photograph: Chaiwat Subprasom / Reuters