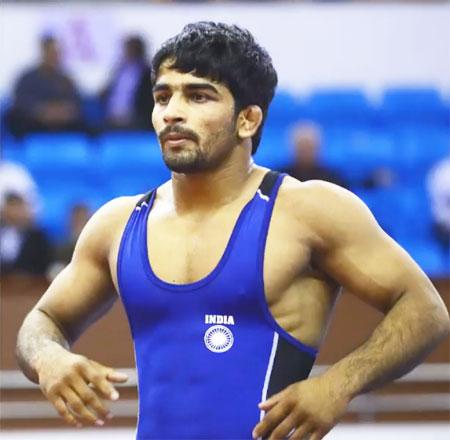 Wrestler Sandeep Tomar secured an Olympic quota place for India in the men's 57kg freestyle category with a bronze-medal finish on the final day of the 1st World Olympic Qualifying tournament in Ulaanbaatar, Mongolia.
The 25-year-old Sandeep became the fourth Indian wrestler after Yogeshwar Dutt (men's 65kg freestyle), Narsingh Yadav (men's 74kg freestyle), and Hardeep Singh (Greco-Roman 98kg) to book a berth for the Rio Games, to be held later this year.
Sandeep qualified for the Olympics by winning the playoff bout after having clinched the bronze medal.
"I am overjoyed at winning the quota and I think the hard yards that I put in before this qualifier that have paid off. I was a little disappointed at having missed out on the final but it was important to eliminate that loss from my thinking as soon as possible," Tomar said.
"I was moving well today, I knew that if I kept my opponent busy and engaged, I would have a good chance. Now, all I have to do is to focus on the Olympics and these next three months are going to be extremely crucial," he added.
Only the top three finishers in each weight category are eligible for an Olympic berth in this tournament. Securing a bronze medal was not enough to ensure a ticket to Rio and Sandeep had to fight with the other bronze medallist in his category for a lone third-place finish.
Sandeep kept his nerves during the bronze-medal qualification round and comprehensively defeated Ukrainian wrestler Andriy Yatsenko with a dominating 11-0 show.
En route his Olympic qualification, Sandeep defeated Sezar Akgul of Turkey 11-0 and Kyrgyzstan's Ulukbek Zholdoshbekov 4-1 to enter the semi-final round.
However, he could not cross the semi-final hurdle, going down to Mirjalal Hasan-Zada of Azerbaijan 8-8 in a closely-fought battle.
Sandeep came back strongly from his disappointing semi-final loss to thrash Alexandru Chirtoaca of Moldova 10-0 in his bronze medal bout to ensure that he got an opportunity to fight for a place in the Olympics.
However, other Indian men's freestyle grapplers in the fray returned empty-handed on Sunday.
Sumit got off to a poor start, losing his pre-quarterfinal bout to Hungary's Daniel Ligeti 4-6 but luckily got another chance to make it to the medal round as his Hungarian opponent reached the final of 125kg category.
He, however, failed to capitalise on the chance after getting injured and did not fight in his repechage bout.
Somveer (86kg) and Satywart Kadian (97kg), also fumbled in the initial rounds of their respective weight divisions to crash out of the competition early.
Somveer lost to Piotr Ianulov of Moldova 0-10 in 86kg pre-quarters, while Satywart went down to Germany's Gennadji Cudinovic in a closely-fought pre-quarterfinal bout 4-5.
Earlier, he had got the better of Xueyi Zhang of China 13-2 in the qualification round.
Image: Indian wrestler Sandeep Tomar
Photograph: World Wrestling/Twitter