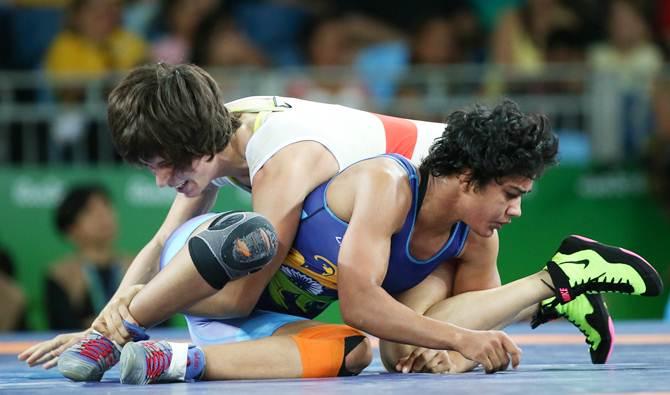 IMAGE: India's Babita Kumari and Maria Prevolaraki of Greece battle it out during their women's 53kg freestyle bout at the Rio Olympics on Thursday. Photograph: Toru Hanai
Babita Kumari's challenge in the women's 53kg wrestling competition at the Rio Olympics ended tamely on Thursday.
The Indian grappler, who had won two medals at past Commonwealth Games and also bagged a bronze in the World Championships four years ago, was beaten 1-5 by Maria Prevolaraki of Greece.
In both the three-minute periods, the 26-year-old got a leg hold on her opponent, but the Greek did well to wriggle out of her grip.
Prevolaraki established a 3-0 lead in the opening period when she freed herself from a one-leg hold by Babita and went behind the Indian girl to score two points after thrown her opponent out of the safety zone on the mat earlier to log her first point.
The Arjuna awardee, who won a silver medal in the Commonwealth Games in Delhi six years ago, had a chance to log some valuable points due to the 30-second passivity rule applied against her rival, but could get no more than one.
That was the lone point she secured as Prevolaraki got out of the Indian's double leg hold and then, like in the first period, escaped from a two-leg hold to move behind Babita and score two more points.
Trailing 1-5, the Indian needed to flip the Greek down from a standing position to level the score but failed despite a good attempt, allowing Prevolaraki a place in the quarter-finals.
Babita could have progressed to the repachage round, like her teammate Sakshi Malik did on Wednesday before winning the bronze in the 58kg category, but the Greek grappler failed to make it to the final, beaten 1-3 by Venezuela's Betzabeth Angelica Arguello Villegas in the quarter-finals.
On Wednesday, Sakshi won bronze in the women's 58kg freestyle, while Vinesh Phogat, Babita's cousin, suffered a ligament tear during her 48kg quarter-final bout against China's Sun Yanan and bowed out after being stretchered out.