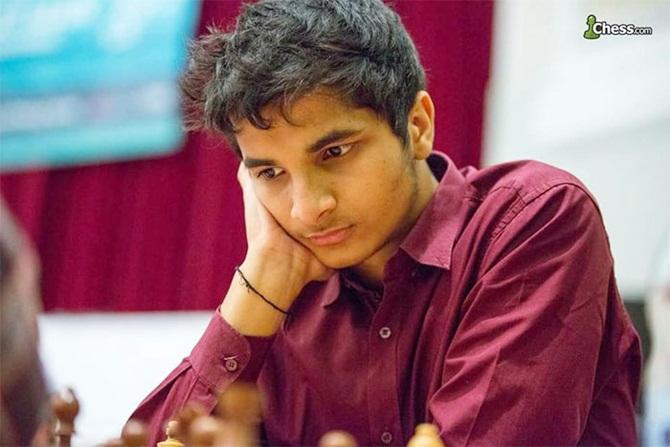 IMAGE: Vidit Gujrathi scored 9.0/13 points, from five wins and eight draws, to finish unbeaten. Photograph: Vidit Gujrathi/Facebook.
Grandmaster Vidit Gujrathi won Tata Steel Chess Challengers 2018, at Wijk aan Zee, the Netherlands, on Sunday.
The victory ensured him qualification for the Tata Steel Masters 2019, where leading chess players from across the world, including World champion Magnus Carlsen, will take part.
With a rating of 2718, Vidit started as the top seed. His main competitors in the tournament, from January 12 to 28, were Bassem Amin (2693) of Egypt, Poland's Michal Krasenkow (2671) and Anton Korobov (2654) of the Ukraine.
There were also many young talents like World junior champion Aryan Tari (2599) from Norway, Jeffery Xiong (2634) of the US and the Netherlands' Jorden van Foreest (2629).
Vidit played solid chess to score 9.0/13 points, from five wins and eight draws, and finish unbeaten.
It was a big fight between Vidit and his Ukrainian opponent Korobov until round 11 when both were tied on 7.5 points, but Vidit scored 1.5 points in the last two rounds, while Korobov could score 0.5/2. Thus, the Indian Grandmaster won the tournament by a point.
Vidit gained 5.3 Elo points from the tournament and now has his live Elo rating at 2723. This places him at No. 30 in the world rankings.
"This victory means a lot to me," said Vidit, adding "because I qualify for the Masters section in 2019."
Talking about his future, the 23-year-old said, "I want to continue working hard on chess and aim for the World Championship title in the years to come.
For this I would need to play more against the best players in the world. I am hoping that this performance will get me invitations to the top Round Robin events in 2018."