Former heavyweight boxing champion Mike Tyson, once notorious for his bad boy antics, has a new goal: he'd like to dance and act in musicals.
"I've always been a bad guy who wanted to be a good guy," said Tyson, 46, on the sidelines of the CLSA Investor Forum in Hong Kong this week.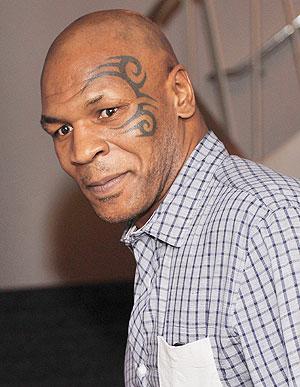 "I didn't know how to be a good guy because I was always concentrating on being bad, so I've learned how to be a good guy now and treat people the way I want to be treated. That's why I have a passion for life now."
The convicted rapist who spent three years in prison and was later declared bankrupt has found religion and mellowed. He spoke to financiers in Hong Kong about his life before and after boxing, his family and his acting career, which includes a recent one-man show on Broadway.
Tyson became the youngest world heavyweight champion in 1986 at age 20 and was undisputed world champion for several years. Convicted of rape in 1992, he later returned to the ring but added to his notoriety when he bit off a chunk of Evander Holyfield's ear in a 1997 bout.
But in Hong Kong, Tyson strutted into the room with the swagger of a boxing champion, looking dapper in a light coloured suit and white shirt, working the crowd of financiers with a toothy grin.
"I'm not drinking, I'm not getting high, I'm not womanising, I'm not doing a lot of things that I normally did," said Tyson, once nicknamed "The Baddest Man on the Planet".
"This is what I'm doing now -- a responsible individual, raising a family, loving my wife."
Asked what else he wants to do in his life, Tyson paused briefly.
"I want to do some dancing thing, I want to do some musicals," he said, to loud laughter.
CLSA, an Asia-focused brokerage, likes to make a splash with its annual forum with a high-profile keynote speaker. Former Alaska governor Sarah Palin and actor George Clooney have both appeared at the event.
Photograph: Stephen Lovekin/Getty Images