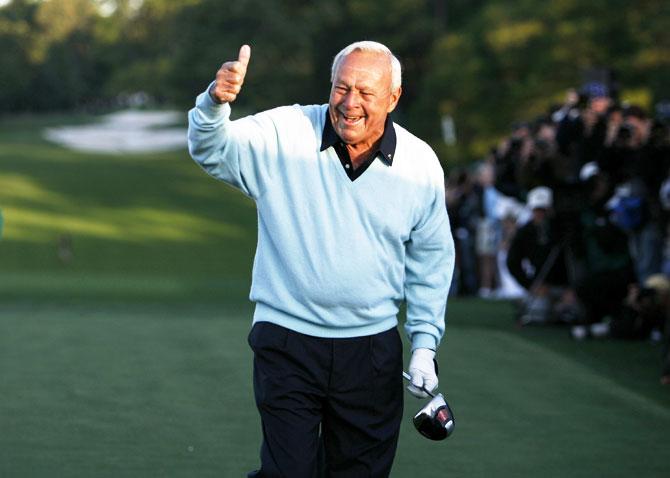 IMAGE: Arnold Palmer gestures after hitting a drive to begin the 2007 Masters golf tournament on the first tee at the Augusta National Golf Club in Augusta, Georgia, US on April 5, 2007. Photograph: Mike Blake/Reuters
Arnold Palmer, one of golf's greatest players whose immense popularity drew a legion of fans known as "Arnie's Army" and helped propel the game just as television was coming of age, died on Sunday at age 87, the US Golf Association and golf media reported.
"We are deeply saddened by the death of Arnold Palmer, golf's greatest ambassador, at age 87," the USGA said on Twitter.
Palmer, who posted 62 victories on the PGA Tour starting in 1955, died in Pittsburgh, near his hometown of Latrobe, Pennsylvania, golf media reported.
A winner of seven major championships, including four Masters, Palmer had no peers as a fan favorite and always went to great lengths to ensure that every person waiting in line ended up with a cherished autograph, an approach that even today's generation of players tries to live up to.
Palmer developed his following at tournaments and on television with an affable demeanor, telegenic looks and modest background as the son of a greenskeeper. At his death, he ranks fifth on the PGA's list of tournament victories.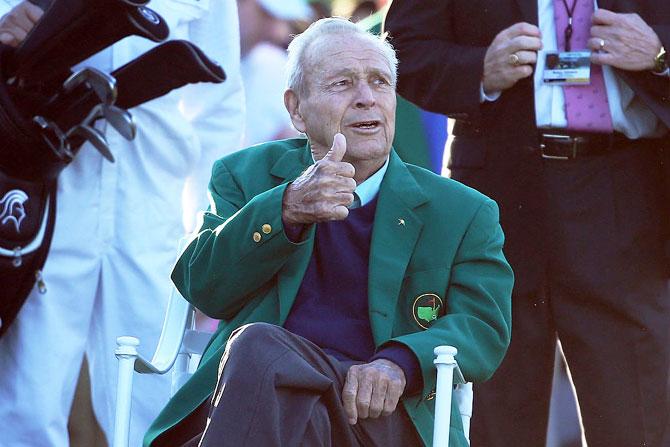 IMAGE: Honorary starter Arnold Palmer attends the ceremonial tee off to start the first round of the 2016 Masters Tournament at Augusta National Golf Club on April 7, 2016 in Augusta, Georgia. Photograph: Andrew Redington/Getty Images
"Thanks Arnold for your friendship, counsel and a lot of laughs," Tiger Woods, ranked No. 2 on that list, tweeted late on Sunday.
"Your philanthropy and humility are part of your legend. It's hard to imagine golf without you or anyone more important to the game than the King."
Palmer's biggest win may have come in 1960, when he won the US Open after being down seven shots in the final round in the greatest comeback in that tournament's history. He beat Jack Nicklaus, a then 20-year-old amateur, by two shots, prefacing a rivalry between the two that lasted throughout the 1960s.
Palmer was especially dominant from 1960 to 1963, winning 29 PGA Tour events. He was named Sports Illustrated magazine's "Sportsman of the Year" in 1960.
Palmer had an unorthodox swing and go-for-broke style that added to his appeal among fans, who became known as "Arnie's Army" for the size of his following.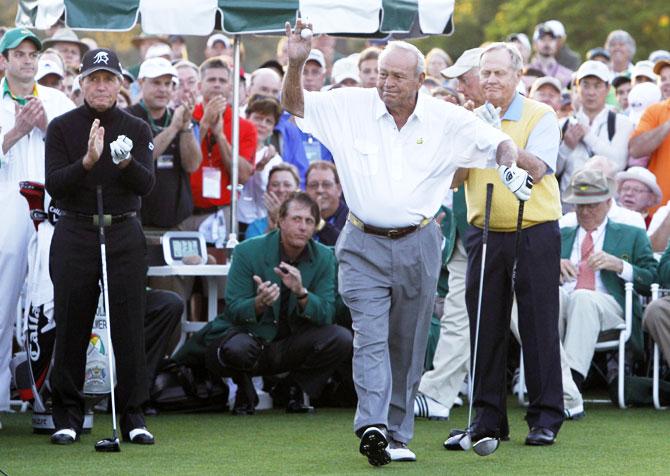 IMAGE:Arnold Palmer (2nd frpm right) is applauded by fellow starters Gary Player (left), Jack Nicklaus (rigt) and three time champion Phil Mickelson (2nd from left) as he walks to the tee during the ceremonial tee-off before first round play in the 2012 Masters Golf Tournament at the Augusta National Golf Club in Augusta, U.S. on Georgia, April 5, 2012. Photograph: Mark Blinch/Reuters
"I enjoy the crowds, and I enjoyed playing to them. I suppose that was one thing that helped me as much as anything," Palmer told Golf.com in 2011.
Palmer's success on the course and at attracting fans helped boost television ratings for golf, making it a staple of weekend TV sports.
In 1967, he became the first golfer to reach $1 million in career earnings. His last PGA Tour win came in 1973.
He joined the Senior PGA Tour for players 50 and older in its inaugural season in 1980 and won 10 tournaments on that tour, including five majors, before retiring from tournament golf in 2006.
A successful businessman, Palmer owned a golf course design firm and a golf resort in Orlando, Florida, and was considered a pioneer in sports marketing.
He was an avid pilot who continued to fly until he was 81. He has a regional airport named after him in Pennsylvania.
Palmer was also a noted philanthropist, founding the ArnoldPalmerHospital for Children in Orlando and a number of other charities.
President George W Bush awarded Palmer the Presidential Medal of Freedom, the United States' highest civilian honor, in 2004.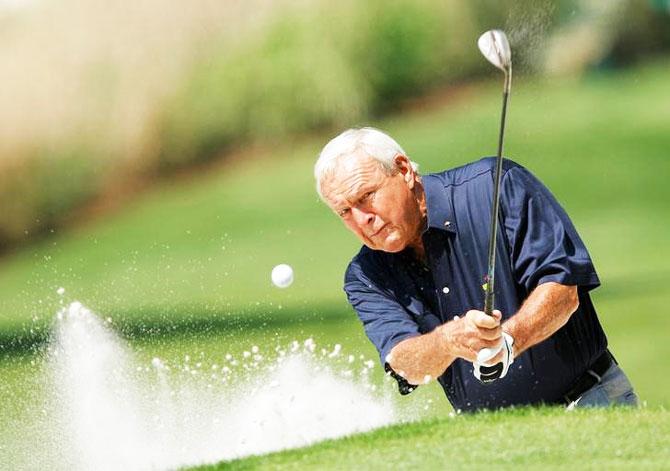 IMAGE: Former champion Arnold Palmer of the US hits from a sand trap during the annual Masters Par 3 golf tournament at the Augusta National Golf Club in Augusta, Georgia, April 9, 2008. Photograph: Hans Deryk/Reuters
Palmer was born on September 10, 1929, in Latrobe, a small industrial town east of Pittsburgh. He was the son of a greenskeeper and later club pro at the Latrobe Country Club.
Palmer started golfing at age 4 on clubs cut down to size by his father and began caddying at Latrobe as an 11-year-old. He purchased the country club in 1971.
He attended WakeForestUniversity in North Carolina on a golf scholarship, but he left during his senior year after the death of a close friend in a car accident and enlisted in the Coast Guard.
Palmer returned to competitive golf after his three-year enlistment and turned pro in 1954.
He met his first wife, Winifred Walzer, at a golf tournament in Pennsylvania. They married in 1954 and had two daughters. She died in 1999. Palmer remarried in 2005 to Kathleen Gawthrop.