World No. 1 Rory McIlroy has played down talk of rivalry between himself and 14-time Major winner Tiger Woods at this week's inaugural eight-man World Golf Final in Turkey.
-Europe clinch Ryder Cup with stunning comeback
Ryder Cup winner McIlroy and World No. 2 Woods are the biggest names in a field which includes five of the World's top 10. The lowest-ranked player is 2011 US Masters champion Charl Schwartzel at 30th.
McIlroy and Woods are grouped together and could both reach the semi-finals and potentially meet in Friday's final.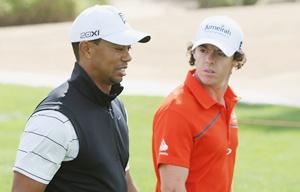 "This will be the first match where we have played against each other head-to-head compared to individual stroke play so it should be fun, and it's a match I would really like to win," McIlroy said.
"But while I would rather be a part of this than not, I'm in a great position being compared to Tiger. People who watch sports want to see some form of rivalry between myself and Tiger but I don't see it as that's what Tiger and I have.
"I am just pleased to be mentioned in the same conversation with Tiger," added McIlroy of his opponent who sits in second place on the list of all-time major winners, four behind Jack Nicklaus.
"I'm looking forward to tackling Tiger as everyone knows he's been a hero of my growing up," said the 23-year-old of the 36-year-old American.
Both men played in the Ryder Cup last month in which Europe launched a stunning comeback to retain the trophy and Woods lost all three of his team matches.
"I had an opportunity to earn three points in the team sessions and I didn't do that," Woods said of his poor form in the foursomes and fourballs which led him to be dropped from a session for the first time in his Ryder Cup career.
"We lose far more than we win in this sport and you learn to move on and the next event is this week here in Turkey, and I've got a good match-up with Charl (Schwartzel)," added the former world number one.
McIlroy, in contrast, has been on cloud nine since helping his team recover from 10-4 down on Saturday to secure the dramatic 14 1/2-13/1-2 win.
"I am still trying to come down from the high of the Ryder Cup but it's just nice to be here," said the Northern Irishman, who has been spending time with girlfriend Caroline Wozniacki, the World's 11th-ranked women's tennis player.
"I haven't touched a club since the Ryder Cup and I've just been chilling out with Caroline so I will get to the golf course early tomorrow morning and see if it's still there," he said.
McIlroy beat in-form Keegan Bradley in his Ryder Cup singles match despite arriving only 10 minutes before his tee-off owing to confusion over time zones.
McIlroy will open his campaign in the $5.3 million event against Bradley's American team mate Matt Kuchar on Tuesday before playing South African Schwartzel and Woods on Wednesday.
"It's going to be a very exciting week with eight of the best players in the world and the people of Turkey are going to see an event they've never seen before," said McIlroy.
In Group Two, American Hunter Mahan will open up against Ryder Cup winner Justin Rose whose teammate Lee Westwood will take on US Open champion Webb Simpson.
Photograph: Scott Halleran/Getty Images