The Indian golfing sensation has firmly set his eyes on making the International team which will face a Tiger Woods-led United States team in the Presidents Cup next year.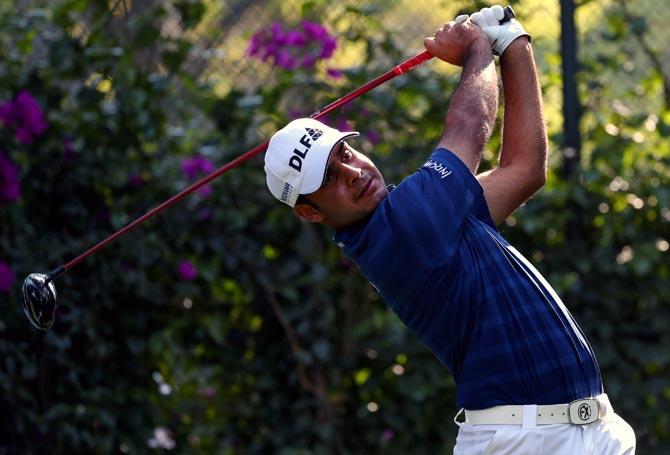 IMAGE: Shubhankar Sharma in action during the World Golf Championships-Mexico Championship. Photograph: Gregory Shamus/Getty Images
India's newest golf star Shubhankar Sharma plans to fight his way into the 2019 Presidents Cup, as one of his early inspirations Ernie Els was named captain of the International team.

"It would be fantastic if I can make it to the Presidents Cup. It'll be a dream come true," said Sharma.

"But in saying that, it's in 2019, we still have a year and a half to go. I don't want to get ahead of myself just yet. Anything is possible if I continue to play really well and break into the top-50 in the world."
It would also complete a full circle for the dream that began in 2008, when he attended one of Els' clinics, when the 19-time PGA Tour winner came to India for the Indian Masters.

"I was a kid and went for a golf clinic after one of his rounds. Ernie called out a few kids to hit a few shots and I was one of them. We were using his nine iron and as kids, it was really heavy for us and nobody could really hit it good.

"I was the last kid and he came over and told me I have got to hit the ball in the centre of the clubface and showed me how to hold the club," recounted Sharma.

"I went on to hit two great shots, which went towards the 100-yard marker. That was one of the best memories I have of Ernie and he was kind enough to give me his card and after signing it, he said I will be a great player one day if I kept practicing. And for a kid like me who was only 10 at that time, it just made my day."

One of the reasons why Sharma has followed the Presidents Cup closely over the past two editions was because his close friend and countryman, Anirban Lahiri featured in the International team.

"Even though we were playing on the Asian Tour during the week of the Presidents Cup, we managed to watch it on TV. It was exciting to see the International team coming close," said Sharma, who finished tied seventh at the Hero Indian Open last week.

"I think it will be a lot of fun, being in that team atmosphere. You normally play for yourself and you try to do your best but it's a different feeling when you play for a team, just like how it was during our amateur careers when we played for India.

"I think it will be a lot of fun. The intensity and the passion that the players have, I'm sure it's a great event. If I can get into the Presidents Cup in 2019, it'll be really fantastic."

Sharma's stunning rise in recent months has also caught the attention of PGA TOUR Commissioner, Jay Monahan. During the unveiling of the team captains on Tuesday, he pointed out Shubhankar as one of the players to look out for.

Sharma will have his first chance at showing off his match play credentials when he makes his debut at the World Golf Championships-Dell Technologies Match Play in Austin next week.

The young Indian will also play in the Masters Tournament, the year's first major, in April after receiving a special exemption from Augusta National and will also feature in several other PGA Tour tournaments.
Sharma, 21, has taken the golfing world by storm following two recent victories in South Africa and Malaysia which he followed up with an eye-catching tied ninth performance at the World Golf Championships-Mexico Championship. He led a star-laden field in Mexico City after the second and third rounds.

With his world ranking rocketing from a lowly 521st in November to its current 64th position, the talented Sharma has firmly set his eyes on making the International team which will face a Tiger Woods-led United States team at The Royal Melbourne Golf Course in Melbourne in December, 2019.
© Copyright 2023 PTI. All rights reserved. Republication or redistribution of PTI content, including by framing or similar means, is expressly prohibited without the prior written consent.