A golf fan has been arrested for throwing a hot dog in the direction of Tiger Woods during a golf tournament in California.
The fan who threw a hot dog at Woods and missed during final round of the Frys.com Open, was arrested by the local police after he ran on to the edge of the green at CordeValle Golf Club shouting 'Tiger, Tiger.'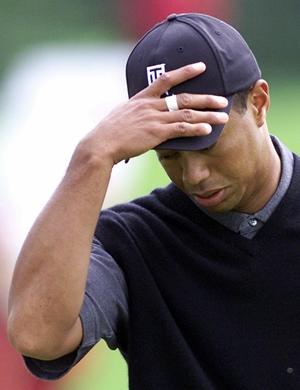 According to Dan Diggins, the tournament's head of security, the man never got closer than 40 feet to Woods. He immediately fell to the ground and allowed himself to be arrested.
Woods recalled the bizarre incident and said that as soon as he turned around he saw the hot dog in the air, the Daily Mail reports.
"I guess he wanted to be in the news," Woods said after signing off with a three-under-par 68.
India's Arjun Atwal, who played with Woods in the final round, described the incident as one of the most bizarre he had seen on a golf course.
"That guy could have got shot, the way he ran out with that hot dog. The cops there could have thought it was something else," Atwal said after closing with a 67.
Woods was preparing to putt at the seventh green at CordeValle -- his 16th hole of the day -- when the man burst out of the crowd and tossed the hot dog in Woods' direction.
Woods backed away from his putt and the man promptly surrendered to tournament security personnel and police. Authorities did not give the man's name, but said he appeared to be intoxicated and had been arrested. 
While 14-time major champion Woods has had to endure the occasional heckler since his return to competition in 2010 in the wake of a sex scandal, he had never had a spectator get through the ropes to approach him. 
"When I looked up, the hot dog was already in the air," said Woods, who regretted missing his subsequent birdie putt but otherwise didn't seem especially concerned. "He was pretty far away from me." 
Woods said the man "laid on the ground and looked like he wanted to be arrested because he ... put his hands behind his back and turned his head." 
"I guess he wanted to be in the news," Woods said. "And I'm sure he will be."