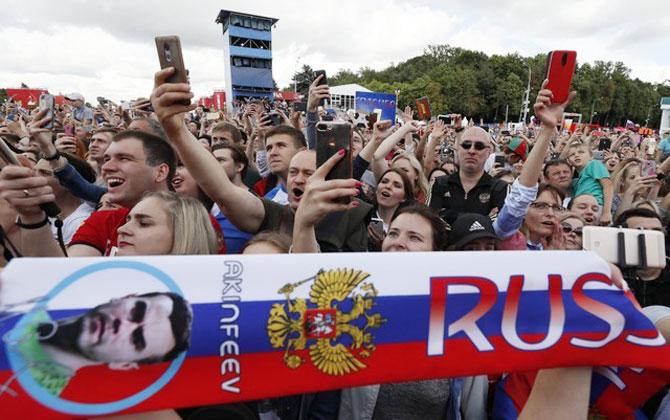 Tens of thousands of Russian soccer fans gathered in Moscow on Sunday to cheer the national team after its narrow defeat to Croatia brought an unlikely World Cup run to an emotional end.
Despite Saturday's defeat, Russians have been celebrating, proud of a campaign which saw their players reach the last eight after starting out as the lowest-ranked team in the tournament.
For many fans, the fact that Russia lost only in a penalty shootout against a team widely considered to be one of the most skilled in the tournament was a victory in itself.
"We came to support our team as we do not think they lost," said Kristina Ladygina, waiting at the FIFA "fan fest" zone for the players to appear.
"We did win. Most importantly, they won for us, for the whole country. And they won a place in our hearts," she said.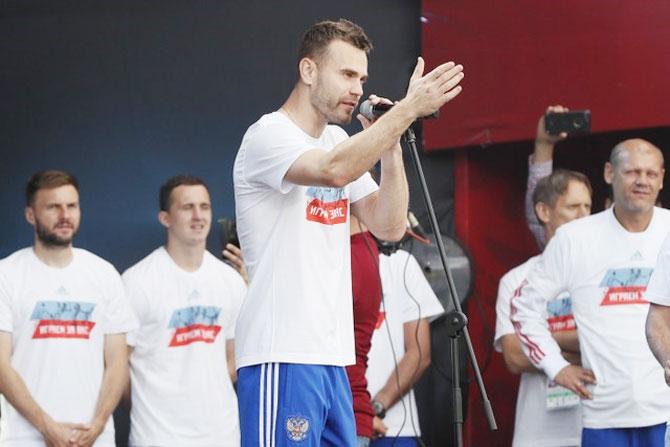 Looking cheerful, the players and their manager walked out on stage to roars of "thank you" and "well done" from the crowd. They took photographs of themselves with the crowd and unfurled a banner saying "we play for you".
"We played with our souls and with our hearts, thank you so much. These guys made history and you are the best!" captain and goalkeeper Igor Akinfeev said.
In the run-up to the tournament, the team's poor performance had made it the butt of many jokes in Russia, and a video poking fun at the players was watched 11 million times online.
But on Saturday the team bowed out as heroes, with fans in Moscow dancing on the streets and chanting "Russia" through the night.
"Clearly, we wanted to go even further but sadly today we could not," coach Stanislav Cherchesov said, addressing the crowd.
"In four years' time in Qatar we will be better," Cherchesov added, referring to the next World Cup tournament.