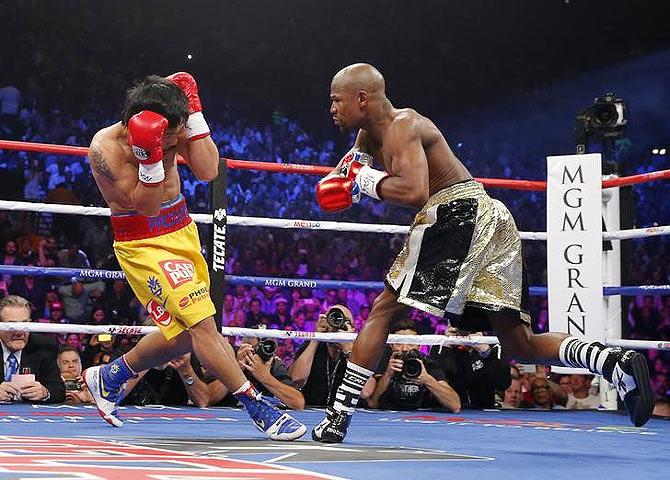 Floyd Mayweather, Jr. of the U.S. goes after Manny Pacquiao of the Philippines (L) in the first round during their welterweight WBO, WBC and WBA (Super) title fight in Las Vegas, Nevada, on Saturday. Photograph: Steve Marcus/Reuters
Customers of US cable companies took to social media on Saturday to report problems ordering the pay-per-view (PPV) for the boxing megafight between Floyd Mayweather Jr. and Manny Pacquiao, which was expected to smash records.
- Mayweather maintains undefeated run after beating Pacquiao in megabout
- PHOTOS: How the Mayweather v Pacquiao bout was fought round-by-round
- Mayweather beats Pacquiao via unanimous decision
It was unclear how many people had been unable to order, but a late rush did cause the fight at the soldout MGM Garden Arena to start late, according to an on-site representative of HBO, which co-produced and broadcast with rival premium cable network Showtime.
The fight, ordered through cable operators, cost $90 for standard definition and $100 for high definition, the most expensive pay-per-view ever for a boxing event.
Pay-per-view is the largest revenue stream for the fight and was expected to bring in at least $300 million through buys in some 3 million households. The majority of the revenue goes to the boxers and Mayweather, the winner of the fight, stood to take the largest share.
Customers with Time Warner Cable, Comcast, DirecTV and Charter took to Twitter to report problems ordering the PPV.
DirecTV gave troubleshooting tips on Twitter for customers having problems ordering PPV and Charter said it was working to resolve issues.
HBO, owned by Time Warner Inc, and CBS Corp's Showtime, which split 7.5 percent of the PPV revenue, did not immediately respond to requests for comment.