Union Sports Minister M S Gill visited the Commonwealth Games Village and spent over two hours at the venue on Wednesday.
During the visit, Dr Gill visited various facilities and met teams of various participating nations, including India.
The Minister along with OC chairman Suresh Kalmadi, met with delegates from Wales, Scotland, Malaysia, Lesotho, Uganda, Jamaica, and Australia. The delegates expressed satisfaction with regard the facilities at the Games Village and later dined with the Minister.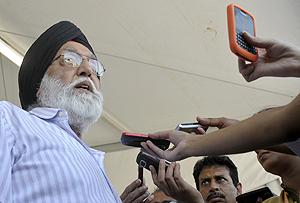 "All teams, while interacting with me have made clear that they are comfortable and are glad to be in India. All the teams complimented the arrangements made and facilities provided at the Games Village," Dr Gill told rediff.com.
"Each group is enjoying food and the spread of facilities. I am personally satisfied to see all facilities provided at the Village", he added.
In the warm-up area, Dr Gill also met members of the Indian hockey team.
He exhorted them to give their best and play for India.
"This time, you should finish at the podium and this is your chance to show to whole of India your performance," he said.