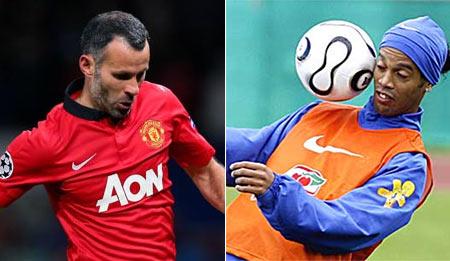 Brazilian football great Ronaldinho and Manchester United legend Ryan Giggs will kick-off Premier Futsal, the world's first multi-national tournament, at the Jawaharlal Nehru Indoor Stadium in Chennai on July 15.
The first edition of the league will see six franchises, divided in two groups, battle it out over eight days and 13 matches to make it to the final, which will be played in Goa on July 24.
The unveiling of former Manchester United star Ryan Giggs, Ronaldinho - the smiling assassin from Brazil – and Argentine forward Hernan Crespo completed the signing of the tournament's six marquee players.
Premier Futsal had previously announced former Manchester United midfield maestro Paul Scholes and Galactico Michel Salgado as their other signings.
Portuguese international Deco, who dropped out at the last minute because of injury, will be replaced by Falcao, the Pele of Futsal, as the sixth marquee player.
Premier Futsal also introduced all its franchise owners for the first edition on Tuesday.
The Mumbai franchise was picked up by the renowned car designer Dilip Chhabria, whereas the Goa and Kochi franchises were bought by Viiking
Ventures Pvt. Ltd. and Dubai-based Yes Events Management respectively.
Premier Futsal recently announced Kannada film star Puneeth Rajkumar as the owner of the Bengaluru 5's franchise.
The Kolkata franchise was bought by Bengali superstar Jeet, while Janani Ramesh of the Hindu Group, was the first to pick a team in its debut season.
Speaking at the event, Premier Futsal co-founder Nithyashree Subban said, "Amidst all the false allegations and attempts to tarnish the image of Premier Futsal, we are proud to kick-start our inaugural edition as scheduled on July 15 here in Chennai.
"It was a strategic decision to host the league in just 2 cities; Chennai and Goa, and with six franchises. We have managed to secure signatures of players who are legends of the game and will be seen playing in India in a few days. As Premier Futsal Management, we are committed to grow Futsal
here in India and we will expand the league to other cities in the future editions."
The teams for each of the franchises were also announced. They were picked by an independent committee comprising of international Futsal experts with a view to have well-balanced teams and make the league competitive.
For the next season, all the Futsallers will go back into the bidding pool and the owners will have to pick their teams through a bidding process. The marquee players will remain with the six franchises for the next season.
IMAGE: Ryan Giggs (left) and Ronaldinho
Photograph: Getty Images