Grandmaster and former national champion B Adhiban crashed through the defences of former women's world champion Antoaneta Stefanova of Bulgaria to remain in joint lead in the Masters section of Tradewise Gibraltar Chess Festival.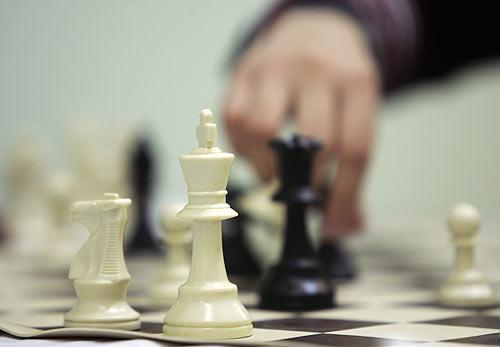 Scoring his fourth victory in as many rounds, Adhiban kept pace with second seed Hikaru Nakamura of United States, Renier Vazquez Igarza of Spain and wonder-kid Wei Yi of China, all of whom have four points apiece with six rounds still remaining in the 175000 Pounds Sterling (Approx. Rs. 1.7 Crores) prise money festival.
It was a rather dull day for highest rated Indian P Harikrishna as he was held to an easy draw by Michael Roiz of Israel. The Indian, however, remains within striking distance of the leaders with 3.5 points in his kitty from four games.
With four players in the front, Harikrishna shares the fifth spot along with top seed former world champion Veselin Topalov of Bulgaria.
M R Lalith Babu is another Indian among 12 players on the heels of the leaders.
Among other Indians in the fray, Surya Shekhar Ganguly tried hard but could only share the point with compatriot V Vishnu Prasanna, who is playing his best chess in recent times. Also inching up to three points were S P Sethuraman, who defeated Padmini Rout, Sandipan Chanda after getting the better of Xander Wemmers of Holland and Debashis Das, who had an easy outing against Andres Guerrero Vargas of Venezuela.
In a notable result, Soumya Swaminathan held Bela Khotenashvili of Georgia to a creditable draw.
Grandmaster Deep Sengupta was however on the receiving end against Yangyi Yu of China.
Adhiban was in his elements against Stefanova out of a Grunfeld defense game. The Indian has been steadily climbing the rating charts in recent months and this game was another attestation to the fact that he is ready to march in to top 100 of world rankings soon.
Stefanova sacrificed a pawn on the king side to take advantage of weaknesses on the other flank but Adhiban skilfully entered a better endgame where the perfect calculation triumphed over judgement. Marching his pawn to seventh rank in quick time, Adhiban won a piece to register a tricky victory with black pieces.
Harikrishna had little to do as Roiz played it rather safe with white pieces out of a Queen's Indian defense. The pieces changed hands at regular intervals and the players reached a queen and minor pieces endgame where the draw was a just result.
Lalith Babu raised visions of an upset when he won a pawn against Yifan Hou but the Chinese found perfect counter play to force a draw in the ensuing rook and pawns endgame.
In the fifth round, Adhiban will meet Nakamura, while Harikrishna will take on Aleksandr Lenderman of United States. Lalith Babu will face another tough customer in Yangyi Yu.
Important and Indian results round 4 (Indians unless specified): Hikaru Nakamura (USA, 4) beat Nils Grandelius (Swe, 3); Michael Roiz (Isr, 3.5) drew with P Harikrishna (3.5); Renier Vazquez Igarza (Esp, 4) beat Maxim Rodshtein (Isr, 3); Wei Yi (Chn, 4) beat Ju Wenjun (Chn, 3); Yifan Hou (Chn, 3.5) drew with M R Lalith Babu (3.5); Antoaneta Stefanova (Bul, 3) lost to B Adhiban (4); Peter Svidler (Rus, 3.5) beat Gudmundur Kjartansson (Isl, 3); Veselin Topalov (Bul, 3.5) beat Hannes Stefansson (Isl, 2.5); Yu Yangyi (Chn, 3.5) beat Deep Sengupta (2.5); Surya Shekhar Ganguly (3) drew with V Vishnu Prasanna (3); Richard Rapport (Hun, 3) beat M R Venkatesh (2.5); Padmini Rout (2) lost to S P Sethuraman (3); Xander Wemmers (Ned, 2) lost to Sandipan Chanda (3); Soumya Swaminathan (2.5) drew with Bela Khotenashvili (Geo, 2.5); Andres Guerrero Vargas (Ven, 2) lost to Debashis Das (3); Ellinor Frisk (Swe, 2) lost to M Shyam Sundar (3); Daniel Sorm (Cze, 2) drew with D Harika (2); Arghyadip Das (2) drew with Josefine Heinemann (Ger, 2); Al-Tamimi Hamad (Qat, 1.5) lost to Neelotpal Das (2.5); Eesha Karavade (2.5) beat Vidal Rodriguez Alvarez (Ven, 1.5).
Photograph: Muhannad Fala'ah/Getty Images