Top seeds Saurav Ghosal and Joshana Chinappa lived up to reputation and emerged supreme in the 37th Bombay Gymkhana Maharashtra State Open Senior Squash Championships on Wednesday.
India No. 1 Ghosal overcame defending champion and second seed Siddharth Suchde 11-4, 11-9, 13-11 in a high quality men's Open final that lasted 53 minutes, while Chinappa rallied from the loss of the opening set to prevail over second seed and last year's runner-up Urwashi Joshi of Jindal Squash Academy 6-11, 11-6, 11-3, 11-3 in the women's championship round.
Ghosal and Suchde treated the packed gallery to long and aggressive rallies, both giving little away.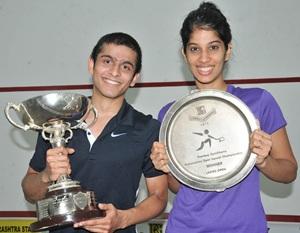 Ghosal dominated the opening set but faced stiff resistance from a determined Suchde in the second and third.
After losing the second set narrowly, while coming back from 7-10 down, India No. 2 Suchde made a brave bid to stay alive in the contest with another gallant effort in the third when he trailed 8-10. He smacked crucial boasts both on the forehand and backhand that led him to draw level at 10-all and 11-all before he hit the tin that ended his brilliant challenge.
"I played a solid first set but Sid raised his level in the second and third sets," explained Ghosal, who has never lost to Suchde.
"But I had to make the right choice of shots and that, I think, proved crucial. He could have played better. He has a good basic game, while I rely on speed and shot-making."
Ghosal will next feature in the Hong Kong Open, World Open in Qatar and the Nationals in Kolkatta in that order.   
Defending champion and top seed Sanjay Pawar of Otters Club endured a serious bout of jaundice all week to overcome second seed Sachin Jadhav of Juhu Vile Parle Gymkhana in straight sets to retain the Professionals title.
Results (all finals):
Men's Open: 1-Saurav Ghosal bt 2-Siddharth Suchde 11-4, 11-9, 13-11.
Women's: 1-Joshana Chinappa (TN) bt 2-Urwashi Joshi (Jindal) 6-11, 11-6, 11-3, 11-3.
Professionals: 1-Sanjay Pawar (Otters Club) bt 2-Sachin Jadhav (JVPG) 11-7, 11-5, 11-4.
Over-35: Jamshid Pandole (CCI) bt Ashutosh Pednekar 11-9, 11-7, 6-11, 2-11, 11-8.  
Over-45: Ashish Kamath bt Darius Surti 11-4, 11-0, 10-12, 14-12.
Over-55: Vaman Apte bt Ramesh More (Bombay Gym) 11-4, 7-11, 11-6, 11-5.