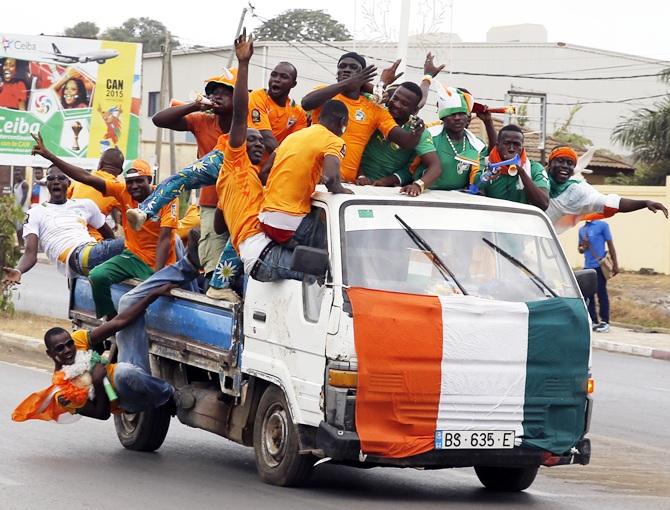 Fans of Ivory Coast cheer from a vehicle. Photograph: Amr Abdallah Dalsh/Reuters
Ghana's head coach Avram Grant hit out at African Nations Cup organisers for giving his side a shoddy bus and lengthy commute ahead of their critical Group C clash with Algeria.
Cameroon's most BIZARRE and HORRENDOUS football kits!
The Israeli said his team, who lost 2-1 to Senegal on Monday, had to train at Oyala instead of Mongomo, where they face Algeria on Friday and also South Africa next week.
"We had to drive one hour while Algeria could train near the hotel," an irritated Grant told reporters on Thursday.
"They change the venue of the training, both of us need to train one hour from the hotel a day before the game. We asked to come closer, they didn't let us do it."
The journey was not helped by a sub-standard bus, the former Chelsea manager said.
"I am sorry to say you need to see our bus. It is a bus which behaves like a ship.
"We are the only team that receives this bus, the other team have a good bus. So when I say good words about the organisation I want you to know about the other things."
'I don't think pressure is a negative word'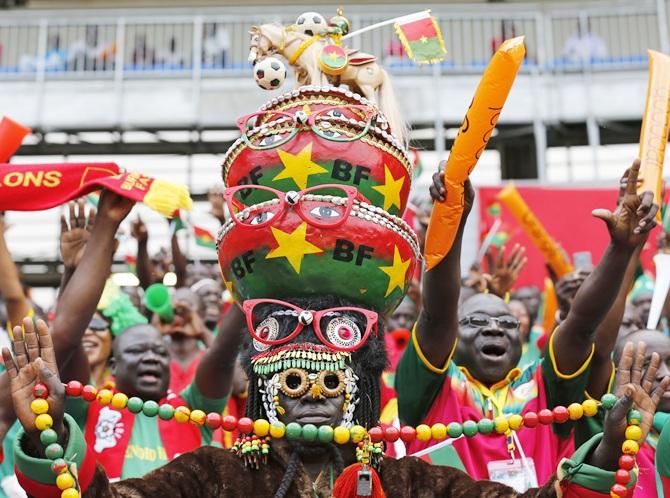 Fans of Burkina Faso cheer ahead of the team's match against Equatorial Guinea. Photograph: Amr Abdallah Dalsh/Reuters
The coach, who has also managed Partizan Belgrade, West Ham United and Israel, said he would not been attending news conferences in future, adding he had been given little notice about timings and that he needed to be with his players.
"I came here because I respect you. But it will not happen again," he said.
Asked if he felt under pressure, Grant smiled and said every soccer game had pressure.
"I don't think pressure is a negative word. Of course it puts you under pressure but we were under pressure before the game," he said.
"I say to the players there are two kinds of life: the people who are on the beach without pressure, and the people who need to play football and achieve something.
"We want to achieve something especially after the bad result in the first game even though I thought the players played very well."
Ghana striker David Accam said his team knew all about Algeria's revered reputation but was not worried.
"I know Algeria are the best in Africa," he said.
"For me we have a lot of quality in our team to win tomorrow so we will concentrate on our game and try to play to our strengths."
Veteran goalkeeper saves the day for DR Congo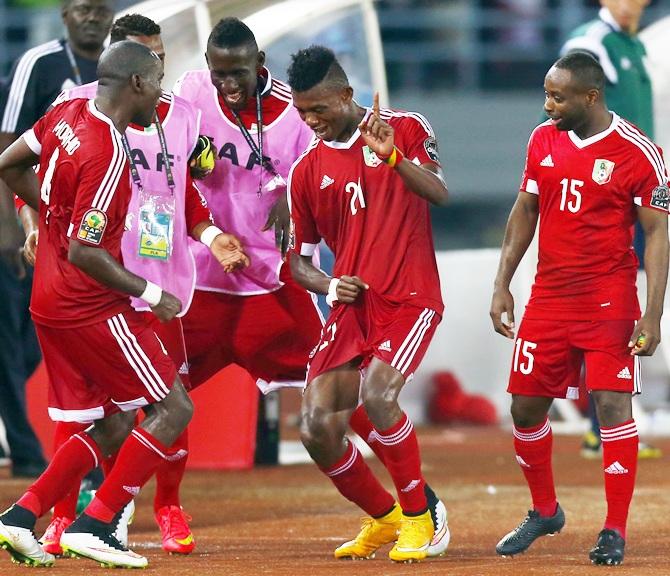 Congo's players celebrate and dance after their match. Photograph: Amr Abdallah Dalsh/Reuters
Key saves in the final five minutes by the Democratic Republic of Congo goalkeeper Robert Kidiaba kept his side's goal intact and ensured a goalless draw with Cape Verde in the African Nations Cup on Thursday.
Kidiaba, who turns 39 next month and is the oldest player at the tournament, made a double save in the 85th minute to deny Cape Verde the best chance of a bland match and then again two minutes later from Heldon's shot.
He stopped a header from defender Fernando Varela on the goalline and then, pouncing up like a cat, smothered the rebound from Gege to deny a breakthrough after 85 minutes of dreary exchanges.
Heldon broke free soon after and cut inside but once again Kidiaba defied his age to spring off his line and cover his angles perfectly, blocking the shot with his chest.
Cape Verde and the Congolese have drawn their opening two matches in Group B, and sit behind Tunisia (four points) in the standings.
Zambia, the 2012 winners, are bottom of the group after a 2-1 loss to Tunisia in their earlier match in front of a capacity 5,000-strong stadium.