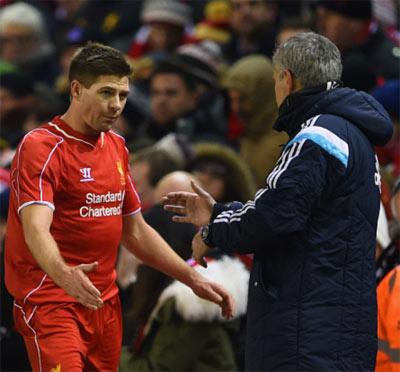 Chelsea manager Jose Mourinho has joked that he might make a bid to sign Liverpool captain Steven Gerrard on loan when he leaves for the United States at the end of the season.

Gerrard announced at the beginning of the year that he would leave Anfield when his contract expired in July to join MLS champions LA Galaxy.

The 34-year-old proved he can still play at the highest level though, after a lively display in Liverpool's 1-1 draw with Chelsea in a pulsating League Cup semi-final first leg at Anfield on Tuesday.

Gerrard hit the post and saw a stunning 30-metre drive narrowly tipped over by visiting goalkeeper Thibaut Courtois, and after the match Mourinho said it would be a shame to see the former England captain leave English soccer.

When asked if he would try to sign Gerrard, Mourinho told BBC radio: "Or to get him on loan.

"I'm not happy he leaves. I would love the Premier League to keep always the best players.

"I think he has more than enough quality to play in the Premier League. In spite (of the fact) he's my opponent, I feel sorry that he's leaving," he added.

Mourinho had spoken before the semi-final tie about his regret at not completing a deal to sign Gerrard in 2005 during his first spell as Chelsea manager, with a move breaking down after the midfielder decided to stay at Anfield.

The Blues manager's comments about any loan deal can be taken with a pinch of salt though, with the Portuguese perhaps taking a subtle dig at Manchester City's season-long deal for Chelsea's all-time leading goal-scorer Frank Lampard.

Lampard was released at the end of last season and agreed to move to MLS club New York City FC, who are part of Manchester City owners' City Football Group, to signal what many thought was the end of his Premier League career.

Instead, the 36-year-old midfielder agreed a return to England with a short-term loan deal with champions City.

After scoring five league goals, including a last minute equaliser against leaders Chelsea, his loan has been extended to the end of the campaign, much to the dismay of New York fans.
Image: Steven Gerrard (left) with Jose Mourinho.
Photograph: Michael Regan/Getty Images