Indian hockey captain Sardara Singh missed out on the FIH player of the year award which was won by Germany's Moritz Fuerste.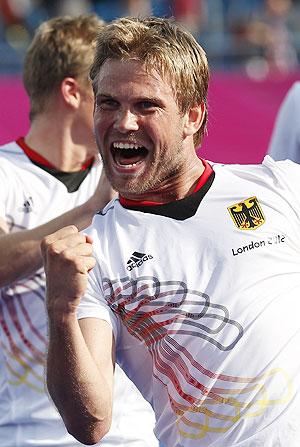 Fuerste, captain of the German team that won the Olympic Games gold medal, was picked as the most outstanding player from a field that included Australian captain Jamie Dwyer, Robert van der Horst of Netherlands, Fuerste's teammate Tobias Hauke and Sardara. He received his award on the field during the Champions Trophy matches in Melbourne.
Fuerste had also featured in Germany's gold medal teams of the 2008 Olympics in Beijing and also the 2006 World Cup in Monchengladbach, and was a nominee for the best player's award during the past two years.
The 28-year-old from Hamburg also celebrated his 200th cap for Germany during the ongoing Champions Trophy.
The German celebration was doubled when Fuerste's teammate Florian Fuchs was selected as the Young Player of the Year. The other finalists for the award were Simon Gougnard of Belgium, England's Harry Martin, Argentine Gonzalo Peillat and Pakistan's Muhammad Rizwan Jr.
Photograph: Suzanne Plunkett/Reuters