Rider Stefan Schumacher's admission that he had used banned substances was welcomed by the German Olympic Sports Confederation (DOSB) and national cycling federation (BDR) on Friday.
Schumacher, who failed two drug tests in 2008, said in an interview with German magazine Der Spiegel that doping was part of his training just like eating a "plate of pasta".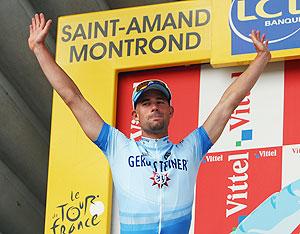 "The admission ... comes too late. He could have spared himself and his sport some things if he had told the truth earlier," DOSB general director Michael Vesper and BDR chief Rudolf Scharping said in a joint statement.
"But his admission comes early enough to draw consequences for the fight against doping. This is why we welcome that Schumacher is ready to process the past. We expect that through his statements the people behind it will be caught and punished."
Schumacher tested positive for the blood-boosting drug EPO-CERA at the 2008 Tour de France and the Beijing Olympic Games but had always previously denied cheating. He was given a two-year ban which was later reduced.
"I have taken EPO, growth hormone and corticosteroids," the 31-year-old, who has ridden with the Christina Watches team since 2012, told Der Spiegel.
"Doping was like the plates of pasta after training," added Schumacher as he explained that he started to cheat in his early 20s.
"I went along with the system. It does not make me proud but it's the way it was."
Schumacher is one of several riders to have admitted doping since disgraced American Lance Armstrong was last year banned for life and later confessed to cheating his way to seven Tour de France victories from 1999-2005.
The German rode with the Gerolsteiner team from 2006. He won the Amstel Gold one-day classic a year later and two stages of the 2008 Tour de France.
Two of Schumacher's team mates, Italian Davide Rebellin and Austrian Bernhard Kohl, also failed tests for EPO-CERA in 2008.
Photograph: Bryn Lennon/Getty Images