Salah back in Liverpool squad but may not be risked at Genk, says Klopp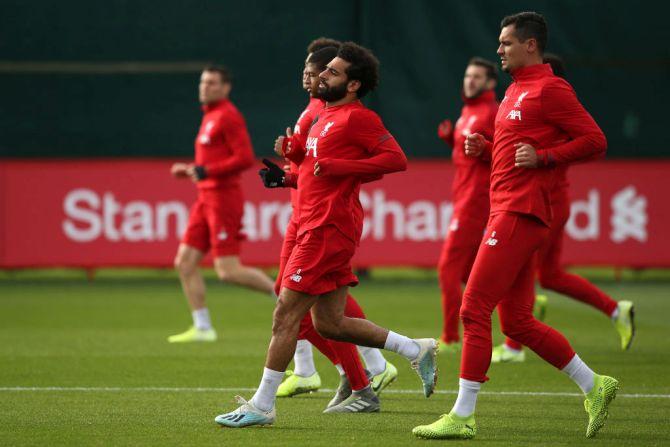 Liverpool forward Mohamed Salah has recovered from an ankle injury to return to the squad for Wednesday's Champions League group game at Genk but they will take a late call on his participation, manager Juergen Klopp said on Tuesday.
Salah has not played since injuring his ankle in a 2-1 win over Leicester City earlier this month and he missed the 1-1 draw at Manchester United over the weekend, which ended the Anfield side's 17-match winning streak in the Premier League.
"It looks promising," Klopp told reporters when asked about the Egyptian's participation. "Yesterday we weren't sure, today it looks good but we won't take any risks. We will see how he does overnight."
However, centre back Joel Matip (sore knee) and full back Trent Alexander-Arnold (virus) did not make the trip to Belgium with defenders Dejan Lovren and Joe Gomez expected to replace them in the starting lineup.
"We thought (Matip's injury) would be a two-week thing before Man United," Klopp added. "It's not a serious thing but it's serious enough for him not to play tomorrow."
Defending champions Liverpool have three points after two games and are a point behind Group E leaders Napoli while Belgian champions Genk are bottom with one point.
"We don't want to make Genk bigger than they are but they are at home and they can be annoying," Klopp said.
"They're a good team, we have to be here with the right mind-set.
"They are organised and brave in their positioning. They don't play with the pressing line too much but go for second balls, have speed, good midfielders and very active full backs."
After Liverpool dominated this year's Ballon d'Or 30-man shortlist, with seven footballers nominated, Klopp said his players "deserved" to make the list and hoped he could keep them together for the next few seasons.
"I'm proud of my boys in general, not just because seven of them have been nominated. I like them a lot and I'm happy when they win things," the German manager said.
"If it's a sign that we are now a destination for players, I don't know. We want to work together for the next couple of years and we'll see what happens."
Genk look to United for Champions League inspiration
Racing Genk could look to copy some of the tactics that Manchester United employed on the weekend against Liverpool when they go up against Jurgen Klopp's team in the Champions League on Wednesday.
The Belgian club's coach Felice Mazzu said he had been impressed with Ole Gunnar Solskjaer's approach in the 1-1 draw against the European champions at Old Trafford on Sunday.
"Manchester United played a good game against Liverpool on Sunday. Their system with five in the back worked well," Mazzu told the pre-match media conference on Tuesday ahead of Genk's hosting of Liverpool in Group E on Wednesday.
"It was a good point for Liverpool even if Manchester United only played well in one half."
Genk might consider the same approach, he suggested.
"That is an option. You will see tomorrow what choice I have made," he told reporters.
Mazzu also suggested his approach might depend on whether Liverpool field Mohamed Salah, who did not play on Sunday.
"When Salah is not on the pitch, the movement of the strikers is a little different. I don't know if he will be there tomorrow, if he is injured or not, but his presence makes a difference."
But with or without him, Genk's coach said Liverpool remained formidable opponents. Asked what made the Reds so dangerous, he simply replied "Klopp" with a laugh.
"We know they score easily, they've got three, four strikers with a lot of speed.
"The biggest thing about them is they have lots of players with experience and maturity and a system and philosophy of a high press and wanting to be in the opponent's half all the time. We have to play attention to this."
Genk were thrashed 6-2 by Salzburg in their opening group game last month but then held Napoli to a goalless draw at home at the start of October.
"Most important tomorrow for our team is believing we can achieve a good result," Mazzu said. "We did that against Napoli and that will also have to be against Liverpool. The will to want to play a good match must be there.
"We have made a lot of progress in recent weeks. The players understand better how I want to play. Offensive football is important, but compact defending is too."