Former world champion Tyson Gay stumbled out of the blocks and lost to training partner Steve Mullings of Jamaica in a slow 100 metres at New York's rainy Diamond League grand prix Saturday.
After three false starts cut the field from nine to six, Gay lost ground at the start and strained to catch Mullings at the tape, with the Jamaican given the victory despite clocking the same 10.26 seconds as Gay in strong headwinds of 3.4.
"I knew Tyson has got a strong finish," said Mullings, who ran 9.80 to win the Diamond League's Prefontaine meet. "I just have to get out of the blocks strong."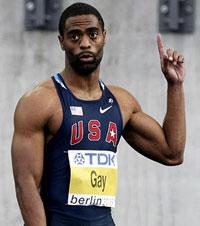 Gay, who surprised himself by running the season's best 9.79 in his first race at a low-key meet last week in Florida, said he was not hampered by a hip injury that has affected his training.
"I was just a little bit sluggish," Gay said about his start. "I haven't been able to really push in practice."
The defeat was Gay's first in the 100 since September 2009 when he lost to Jamaica's Asafa Powell in Brussels.
The race was slow to get underway with Richard Thompson of Trinidad and Americans Travis Padgett and Rae Monzavous Edwards all disqualified for false starts.
The meeting on Randall's Island in the East River across from the Manhattan skyline was held under a heavy overcast sky and light rain, and the dreary conditions held down performances in the sixth stop of the 14-event premier series.
VLASIC BEATEN
Two-times women's world high jump champion Blanka Vlasic of Croatia was also beaten, as Sweden's Emma Green Tregaro won with a jump of 1.94 metres while 2010 World Athlete of the Year Vlasic only cleared 1.90.
Three-times world champion Allyson Felix restored order in the women's 200 by winning in 22.92, gliding to the finish ahead of fellow Americans Bianca Knight (22.96) and Shalonda Solomon (23.03).
The women's 100 metres hurdles was won by American Danielle Carruthers in 13.04, with compatriot Kellie Wells second in 13.06 followed by Briton Tiffany Ofili-Porter in 13.11.
Briton Jessica Ennis, the heptathlon world champion, was seventh in 13.27. "Tough conditions," Ennis said.
The most exciting finish was produced by Puerto Rican Javier Culson in the 400 hurdles as he leaned through the tape and sprawled onto the track to beat American Bershawn Jackson by five-hundredths of a second with a time of 48.50.
Former Olympic champion Jeremy Wariner won the 400 metres in 45.13 seconds, edging Jamaican Jermaine Gonzales (45.16) and Rondell Bartholomew of Grenada (45.17) at the tape.
"It would have been something like 44-mid in better conditions," said Wariner. "With better conditions, I would have run a season's best."
South African Oscar Pistorius, the double amputee striving to run 45.25 to reach the Olympic "A Standard" for qualifying, finished fifth in an eight-man field in 45.69, just eight-hundredths of a second off his personal best despite wet conditions and a Lane 1 assignment.