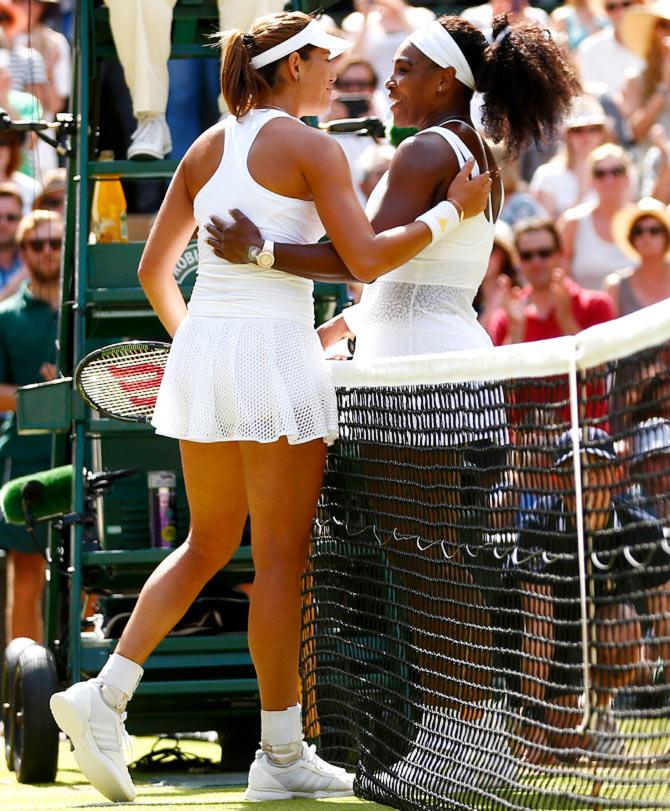 Serena Williams (right) is congratulated by Garbine Muguruza after winning the Wimbledon singles title. Photograph: Julian Finney/Getty Images
After feeling the full force of Garbine Muguruza's ferocious forehand and being made to scrap like a bloodied street fighter, Serena Williams has seen enough of the Spaniard to make a bold prediction -- soon she will be a Wimbledon champion too.

There is little solace to be had when you are beaten into second place unless your opponent, one of the greatest talents in the sport's history, believes you are destined to lift one of tennis's greatest prizes.

As the tears flowed freely at the end of Muguruza's 6-4, 6-4 defeat, she was given a rousing reception by the Centre Court crowd, who certainly got their money's worth from a gripping final in which both players attacked relentlessly.

Then she was given a little pick-me-up to soften the pain of losing her first Grand Slam showpiece.

"She will be holding this trophy very, very soon," the American said in a courtside tribute to the scrapping Spaniard.

"It's good when you hear something like this from a legend," Muguruza later responded.

"Hopefully I can do it. I was close. It's good to hear that. I feel better now."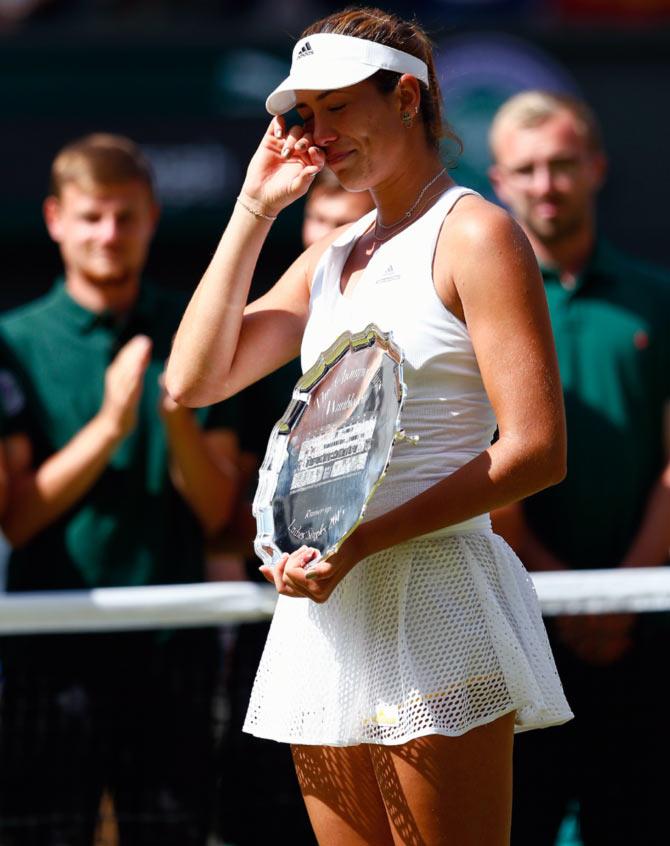 Garbine Muguruza poses with the runner-up trophy. Photograph: Julian Finney/Getty Images
She earned many admirers in defeat, and was rewarded for her efforts with a standing ovation as she clutched the runners-up trophy. Then the emotion of the occasion became too much.

"I couldn't stop crying," she said. "So many people are clapping... I make all these people feel this in a tennis court? I felt special."

Muguruza was not expected to beat Williams, nobody is when they face the world number one with 21 Grand Slam titles now safely tucked away.

When the Spaniard trailed 5-1 in the second set nobody expected the match to last another four games or for the 20th seed to break the Williams serve twice more before succumbing in a gripping finale.

In the last two weeks, she has made a habit of upsetting expectations -- not least by taming the slick grass courts at Wimbledon where she had never been beyond the second round.

"I came here with another mentality from last year because I didn't like grass so much before," she said.

"And this year I came here thinking, No, I like grass. Seriously, Garbine, you like grass. My game is going to help.

"Every day thinking this, you know, it worked."