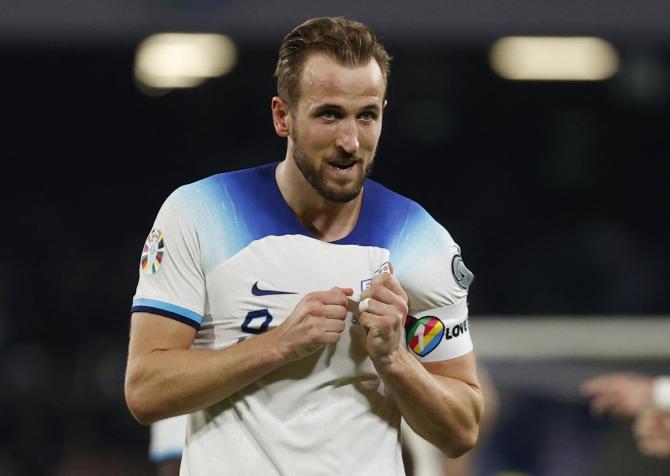 England men's captain Harry Kane believes artificial intelligence (AI) could be the future of injury prevention in soccer as he bemoaned the fact that a number of leading players will miss this year's women's World Cup.
England won the women's European Championship on home soil last year but enter the tournament in Australia and New Zealand starting in July without stars including former captain Leah Williamson and 2021-22 women's player of the year Beth Mead.
Other major contenders including Olympic champions Canada and defending champions the United States will also be depleted.
"It's been a real shame to see some of the women players go down with those injuries and big injuries as well," Kane told Reuters.
The Tottenham Hotspur striker on Thursday announced his investment in OxeFit, an AI-driven fitness-tech startup, and is convinced in the power of real-time data to stop needless injuries."
"Injury prevention is something that is the most important thing to me," said Kane, who joins retired ice hockey Hall of Famer Wayne Gretzky among the latest investors in OxeFit.
"It (will) only get more impressive and more with AI will get better. And hopefully in the long run we'll start kind of seeing less and less injuries."
Kane pointed out OxeFit technology's ability to detect when an athlete might be favouring one side over another with real-time feedback.
"You've got a little issue on your left side or your right side and you need to even out because when you're playing game after game, all you're doing is just putting more impact on maybe the weaker side," he said.
There have been calls for greater research into the prevalence of injuries in the women's game and the 29-year-old Kane, who helped England reach the World Cup quarter-finals last year, sees enormous potential in his country's women's team to move the sport forward.
FA chair Debbie Hewitt recently floated the idea of pursuing a bid to host the 2031 Women's World Cup.
"(We were) lucky enough we had the European Championship last year and I was able to go there, watch the final at Wembley, watch them win. And I saw how much it meant to the country - the country was so behind them, thousands and thousands of fans watching," Kane said.
"The European Championship is great, but the World Cup is the pinnacle of football."