AC Milan chief executive Adriano Galliani is to quit after 27 years at the Serie A club, he told the ANSA news agency on Friday.
Milan had no comment on the report. Barbara Berlusconi, daughter of club president Silvio Berlusconi, recently said they needed a new philosophy although she denied calling for a change of chief executive.
"I'm leaving with or without a (severance) agreement," Galliani was quoted as saying. "I have suffered serious personal damage, that's not the way to carry out a restructuring; you should do it with elegance.
"I'm resigning for just cause," he said, adding he planned to leave after the Champions League match at home to Ajax Amsterdam on December 11 and would always support Milan.
"For now I'm not accepting any offers from anyone," added Galliani. "When you've been insulted you have to have the strength and intelligence to let a little bit of time pass. You need to be clear-headed when making decisions."
Milan are 13th in Serie A after a miserable start to the season in which they have taken only 14 points from 13 games with three wins and five defeats.
Galliani was appointed by Silvio Berlusconi when he took charge of the then-troubled club in 1986 and was a key part of their subsequent huge success, organising transfers and acting as right hand man.
During his time at Milan they have won 28 trophies, including eight league titles, five Champions Leagues and the World Club Cup.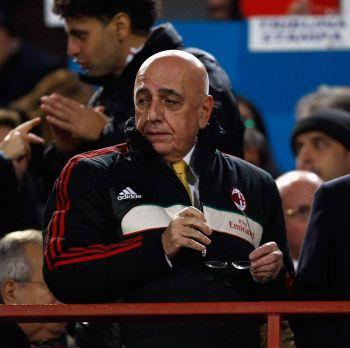 POOR RESULT
He is a long-time friend and ally of the former Italian prime minister, who was expelled from parliament this week following a fraud conviction, but has a more distant relationship with Barbara.
A 2-0 home defeat to Fiorentina on November 2 led to reports that she wanted Galliani replaced due to unsatisfying recent moves in the transfer market.
Despite saying they were going to focus on developing young talent, Milan spent a reported 27 million euros during the summer - only slightly less than Juventus and Inter Milan who are both having fine seasons.
Galliani brought 31-year-old Brazilian midfielder Kaka back to the club and also spent 11 million on journeyman striker Alessandro Matri, who has only scored once this season.
They also allowed Kevin-Prince Boateng to join Schalke 04 only two days after he scored two goals against PSV Eindhoven which helped Milan qualify for the Champions League.
"It's said that Milan spend badly and don't have a scouting network like Roma and Fiorentina, but Roma have only been in the Champions League once in the last five years and Fiorentina haven't," said Galliani in his defence.
"For two straight years Milan have the budget balanced while other clubs have a mountain of debts, while last year our youth team went to the Final Four."
The poor results have enraged fans, who have blamed directors rather than coach Massimiliano Allegri, with around 300 blocking the players' exit to the San Siro stadium after a 1-1 draw with Genoa last weekend.
AS Roma director Claudio Fenucci, Parma CEO Pietro Leonardi and Hellas Verona's sporting director Sean Sogliano are among the favourites to take Galliani's place.
Milan will also need a new sporting director if Ariedo Braida follows Galliani out.
Image: Adriano Galliani
Photograph: Maurizio Lagana/Getty Images