Portuguese football legend Luis Figo explains how Futsal helped him graduate to professional football.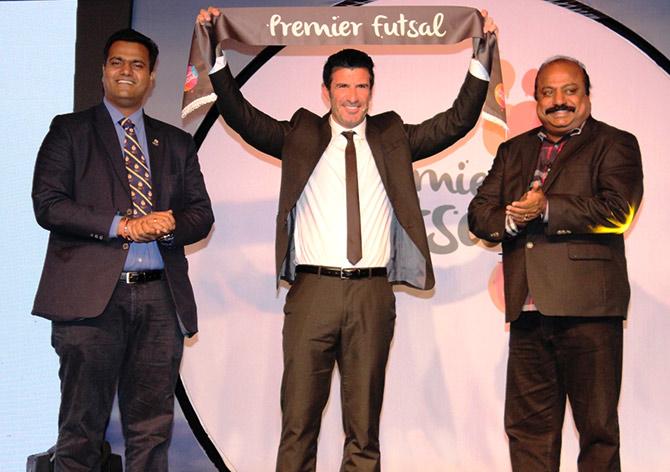 IMAGE: Luis Figo at the launch of Premier Futsal in Mumbai on Tuesday, April 5, 2016. Photograph: Bikash Mohapatra/Rediff.com
Many football players and clubs in Europe have over the years attempted to tap the huge Indian market.
In that sense, Luis Figo's arrival does not come as a surprise.
What makes the Portuguese soccer legend different is the fact he is unapologetic about his motive and doesn't make any tall claims.
In Mumbai on Tuesday, Figo launched his new project, Premier Futsal, a curtailed version of football that will be played on the lines of the Indian Premier League.
Eight city-based franchise teams from Delhi, Mumbai, Kolkata, Chennai, Bengaluru, Kochi, Hyderabad and Goa will vie for the honours in the five-a-side, 10-day tournament, beginning July 15.
"When these people came to talk to me about bringing Futsal to India I didn't know much about the country, the market and the potential," explained Figo.
"I did, however, know that the people love sports here, be it soccer or cricket. Besides, it is a huge population, a huge market and, consequently, a huge opportunity," he added.
The tournament proposes to bring together 56 players, 40 of them home-grown, and promote the fast-paced game in the country.
For someone who took to Futsal first before graduating to professional football, Figo was categorical in his explanation.
"Futsal is a combination of speed and skills, and is a spectacle. It also provides an opportunity for television," said Figo, before getting a tad nostalgic.
"I played on the streets with my friends. I also had a Futsal pitch in my backyard," explained the former FIFA World Player of the Year, adding, "Probably the skills I learned in Futsal helped me during my career as a footballer.
"Like me, most other players also started with Futsal. So it is not that it is a new sport that we are inventing.
"Futsal has been there for years. It's a sport with history. We just want to promote it and this market offers an opportunity for business too."
Asked about his actual involvement in the project, beyond the realm of public announcement, Figo was forthcoming.
"I am totally involved in managing the company. Also, all my past experience in soccer, I think, can help in terms of development, management as also knowing international players."
"It is a combination of all these factors that helped me decide to join the project. And here I am, to try to help in every way the company needs."
"We believe we can give something more for India to watch and enjoy, and at the same time do something positive for the sport."