Pakistan will not be able to send its national team for Azlan Shah tournament in Malaysia next month and the junior team to Singapore unless the government released the promised funds, Pakistan Hockey Federation (PHF) has said.
PHF secretary, Asif Bajwa said that the financial position of the body was weak because the federal government had promised a grant of 100 million rupees which was yet to be released.
"The Punjab government had also promised us 30 million rupees which is yet to reach us," Bajwa said.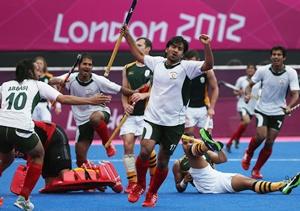 The PHF has survived mainly on government grants since Qasim Zia and Asif Bajwa took over as President and Secretary.
Zia, a former Olympian and a sitting member of the ruling Pakistan Peoples Party government, has used his political clout to get around 850 million rupees by way of grants in the last five years.
Bajwa said in Pakistan, hockey being an amateur sport, survived mainly due to government grants.
"We have also supplemented our revenues by getting sponsorship but it is a expensive sport and we spend millions on one foreign trip. We are also not able to make more money because of the refusal of foreign teams to visit Pakistan because of security reasons," the former Olympian said.
Bajwa made it clear that the situation was a tight one for the federation and if grants were not received soon they might not able to send the senior team to the Azlan Shah tournament and junior team to Singapore for a Asian event.
"We are expecting the grant from the Punjab government in two or three days while we have written several times for the grant from the federal government."
Bajwa said the players were also uneasy and anxious because the cash prizes promised to them after winning the Asian Champions Trophy by the Prime Minister were yet to be given to them.
Photograph: Daniel Berehulak/Getty Images