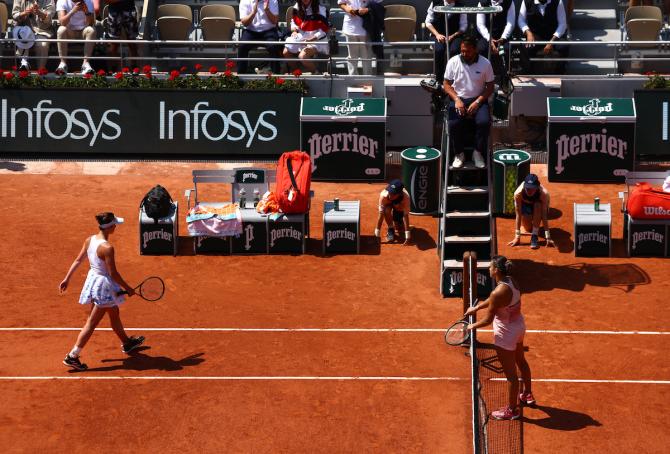 Ukraine's Elina Svitolina accused Belarusian Aryna Sabalenka of adding fuel to the fire by standing at the net waiting for a handshake she knew would never happen at the end of their French Open quarter-final on Tuesday.
Svitolina had warned she would not shake hands with players from Russia or Belarus following Moscow's invasion of Ukraine last year, which it calls a 'special military operation'.
"I don't know, to be fair, what she was waiting for, because my statements were clear enough about the handshake," Svitolina, who was booed by the crowd as she walked straight to her bench after losing the match 6-4 6-4, told a press conference.
"I was expecting that and it was not a surprise for me," she said of the jeers, which she also received when not shaking hands with Russia's Daria Kasatkina in the previous round.
"I don't know. It just was an instinct like I always do after all my matches," Sabalenka told a press conference.
Asked if world number two Sabalenka was looking to inflame the situation by standing at the net instead of also walking back to her bench, Svitolina said: "Yeah, I think so."
"My initial reaction, was like, what are you doing? Because, in all my press conferences I made my position clear.
"Maybe she's not on social media during the tournaments, but it is pretty clear. I made multiple statements that I'm not shaking hands, and she played obviously Marta (Kostyuk of Ukraine) as well in the first round. So it's quite simple."
Sabalenka skipped her two previous press conferences after being grilled on her personal stance on the war as her country is a key staging area for Russia's operations.
The Belarusian said she did not feel safe at her press conferences but showed up before the media on Tuesday to clarify her position, taking a clear stance against the war and Belarus president Alexander Lukashenko.
Sabalenka said Svitolina deserved respect from the crowd and should not be booed for not shaking her hand.
"I think she didn't deserve all these boos," the 25-year-old, who won the Australian Open this year, said.
"I'm giving such a big respect to her what she's doing after giving birth. It's impressive and I'm really impressed by what she's doing. I give big respect to her."