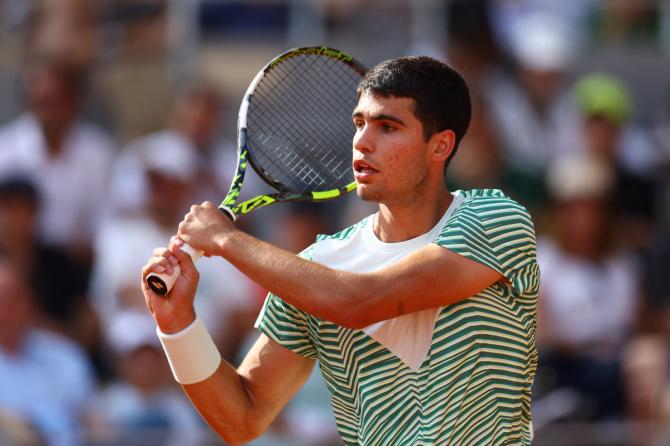 World number one Carlos Alcaraz' effort in tightly-contested first and second sets of his French Open semi-final defeat by Novak Djokovic on Friday caused cramping in his entire body, forcing him to shift down and eventually lose the match.
The 20-year-old Spaniard, who was beaten 6-3, 5-7, 6-1, 6-1, lost the first set to the Serbian after an hour-long fight.
He bounced back to win the second needing more than an hour before cramps forced him to take a medical timeout at 1-1 in the third.
His game, however, collapsed, allowing his opponent to book his final spot.
"I disappointed myself honestly, and in a match like this, coming to this match with great feeling, feeling great physically, and cramping at the end of the second set, beginning of the third set, it was really disappointing," Alcaraz said.
Until that stage Alcaraz had played his exciting brand of tennis, chasing down points that seemed lost, drop shots that looked like winners and lobs that touched the baseline.
But the US Open champion ultimately paid the price and will have to wait another year for the chance to win his first Slam on clay.
"I would say the first set and the second set was really, really intense and I started to cramp in my arm," he said.
"At the beginning of the third set I started to cramp every part of my body, not only the legs. The arms, as well, every part of the legs."
He took the medical but never really recovered.
"The tension," he said when asked about the cause.
"The tension of the match. I started the match really nervous. The tension of the first set, the second set, it was really intense two sets.
"Really good rallies, tough rallies, drop shots, sprints, rallies. It's a combination of a lot of things. But the main thing, it was the tension that I had all the two first sets."
With his level having dropped dramatically, fans on centre court were left wondering why he did not retire.
"Well, I would have felt sorry about myself if I would retire," he said.
"I'm in a semi-final of a Grand Slam. If I retired from that, it could have been really tough for me.
"Thinking about the fourth set, I thought that probably I have 1% chance to come back. It was really tough. In my mind, in the fourth set, it was not the retirement."
Djokovic, 36, continues to cast a shadow on the next generation but Alcaraz has emerged as the strongest contender to dethrone him with his fearless approach but what looked to be an explosive match turned out to be a dud.
"You have to learn from these kind of matches. I would say I take lessons from that match. I will try to not (let such an incident) happen again in these matches," Alcaraz said.