Call it sacrifice or compromise but Coric is ditching the sinful tiramisu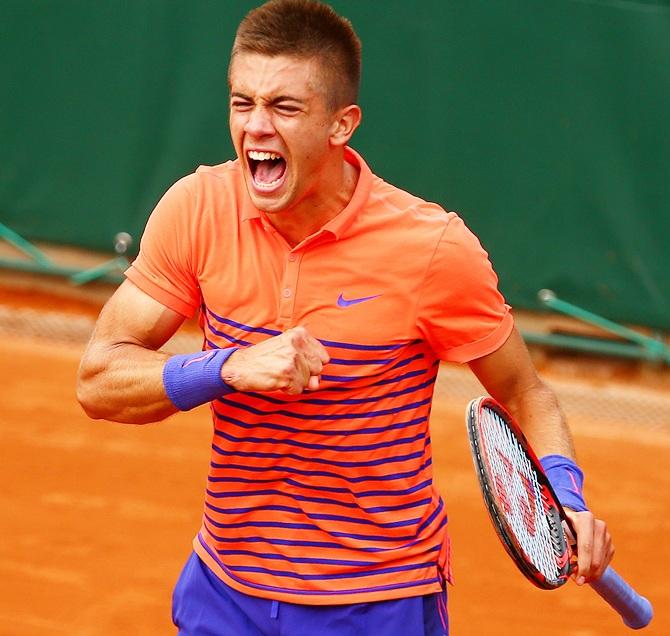 Croatia's Borna Coric celebrates. Photograph: Clive Mason/Getty Images
World No 1 Novak Djokovic says Borna Coric reminds him of himself at the same age, and the single-mindedness that great players have is clearly already there.
It clearly gives Coric some real motivation to part with his favourite dessert.
He takes the compliment in his stride, just as he has pretty much everything since turning professional.
The Croatian would like to eat a tiramisu (a popular coffee-flavored Italian dessert), perhaps even explore some of Paris's night spots like most 18-year-olds, but what he really wants is to become the best player in the world.
As progress goes, he is making huge strides, and on Thursday he beat Spain's Tommy Robredo, the 18th seed, in five sets at the French Open to reach the third round of a Grand Slam for the first time.
Ranked 46th, Coric, who has past wins over Rafael Nadal and Andy Murray, looks at home amongst the world's best players and it is hard to believe he is making his French Open debut.
The maturity he showed in beating American Sam Querrey in round one and following it up with a 7-5, 3-6, 6-2, 4-6, 6-4 over former top-tenner and five-time Roland Garros quarter-finalist Robredo hides the fact that this is only his third Grand Slam.
"I'm trying to be like Djokovic. If you want to be the best you have to have that thing where you know you can't do some things. I would like a tiramisu now, but I can't, would like to go out with my friends, but I can't, I need to recover," he says.