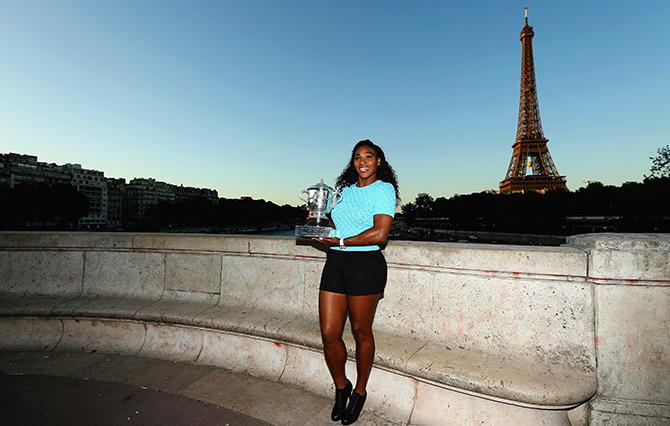 Serena Williams of the United States poses with the Coupe Suzanne Lenglen trophy. Photograph: Clive Brunskill/Getty Images
Serena Williams is a five-times Wimbledon champion but the American has surprisingly declared that she has "never really liked grass".
To complete the 'Serena Slam' for the second time in her career, the U.S. Open champion will need to conquer the lush green lawns of the All England Club from June 29-July 12.
For a player who won the first of her 20 grand slam titles way back in 1999, Williams has had to wait until the ripe old age of 33 to claim back-to-back Australian Open and French Open titles.
While that has raised the possibility that she could become the first female since Steffi Graf in 1988 to capture the calendar Grand Slam of all four majors in a single year, the world number one is more interested in what comes next.
"I would never have expected at this time in my career to win three grand slams in a row. This for me is unbelievable," Williams told reporters after beating Czech Lucie Safarova 6-3, 6-7 (2), 6-2 in the French Open final.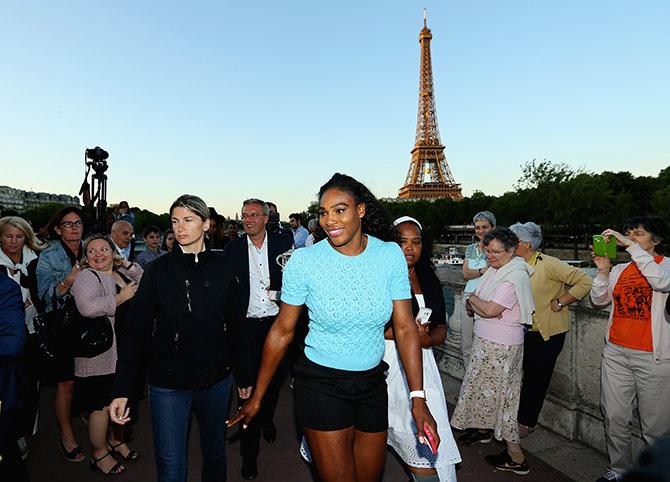 Serena Williams of the United States attends a photocall on day fourteen of the French Open at Pont Bir Hakeim in Paris. Photograph: Clive Brunskill/Getty Images
I'm really excited to have done this. I've got a 'Serena Slam' and I'm close to another.
"At Wimbledon the monkey is on my back because I have not done well there in a couple of years. Considering how well I have done there for so many years, I now consistently do terrible there so that is the one I really want to do well in."
Williams has failed to make it past the fourth round in London for the last two years, a shock to the tennis world but not to her.
"I've never really liked grass and I just don't know how I've done so well," added Williams who had swapped her orange tennis dress for a blue-knitted top and black shorts.
"It's a slower surface, it'll help me out a little bit. Now if I get in a tough spot I know how to win whereas even two years ago I wasn't able to win those matches. That's going to help me out a lot."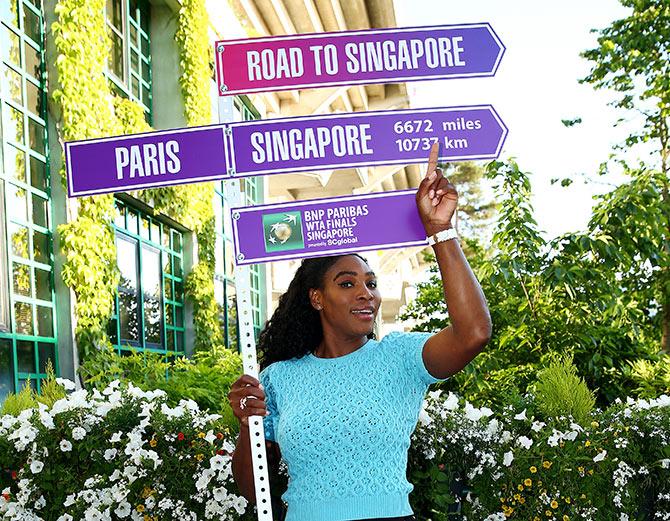 Serena Williams of the United States poses with the Road to Singapore sign after her victory in the women's singles final at the French Open. Photograph: Clive Brunskill/Getty Images
With only Graf (22) and Margaret Court (24) ahead of her in the list of all-time grand slam winners, Williams has already cemented her place among the greats.
But, as for where she ranks among them, it is not something that keeps her awake at night.
"I promise you I'm not even looking at it. When you are still playing and start thinking 'well I'm here in the history books and soon I will be there' ... then you become really satisfied," she said.
"I don't want to be satisfied. I want to keep going."