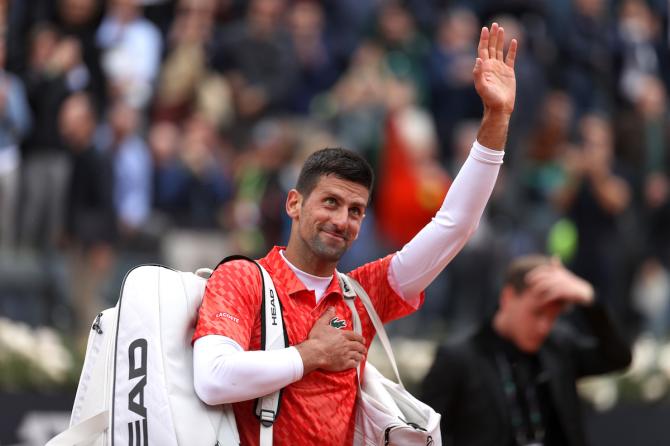 Novak Djokovic enters the French Open amid a run of indifferent claycourt form but few would be surprised to the see Serbian great hoist the Musketeers' Trophy for a third time.
With Rafa Nadal sidelined with injury, Djokovic has the chance to move past the Spaniard in the Grand Slam race and take a record 23rd major title, which would strengthen his case in the GOAT (Greatest Of All Time) debate.
Even with Nadal absent, Djokovic will have another Spaniard on his mind in the form of 20-year-old Carlos Alcaraz, a young man in a hurry to forge his own path to greatness.
The US Open champion is narrowly favoured by bookmakers over Djokovic to win the French Open and the Serb rates him highly.
"He's the player to beat on this surface, no doubt," Djokovic said in Rome.
Despite winning at Roland Garros two years ago and in 2016, clay has never been Djokovic's favourite surface, its pace and variation less suited to his attacking game.
His build-up has been clouded by an elbow injury which he said was bothering him before he withdrew from the Madrid tournament.
His return at Rome ended in the quarter-finals with defeat by Holger Rune, the Danish wunderkind who also upset him on a Paris hard court last year.
Having long stalled the rise of the next generation of men's tennis in concert with the other members of the 'Big Three' - Nadal and Roger Federer - Djokovic conceded their time had come.
"A new generation is here already," he said after his Rome defeat.
At 36, and having seen Nadal's struggles, Djokovic may feel time is against him.
However, the Grand Slam aura remains.
Apart from Nadal, the only player that has beaten him at the majors since 2020 is Russian Daniil Medvedev at the 2021 US Open final.
His former coach Boris Becker believes it would be foolish to write him off.
"As long as he's healthy, and as long as he wants to play, he is always going to be one of the favourites to win a Grand Slam," the German told The Guardian.
Even when neither 100% fit nor healthy, Djokovic's hunger for success and incredible mental strength are generally enough to pull him through.
At the Australian Open he battled a hamstring tear and plenty of off-court drama to claim his 10th title at Melbourne Park in January.
Young guns be warned.