Trungelliti's 1,000km roadtrip with Granny ends in win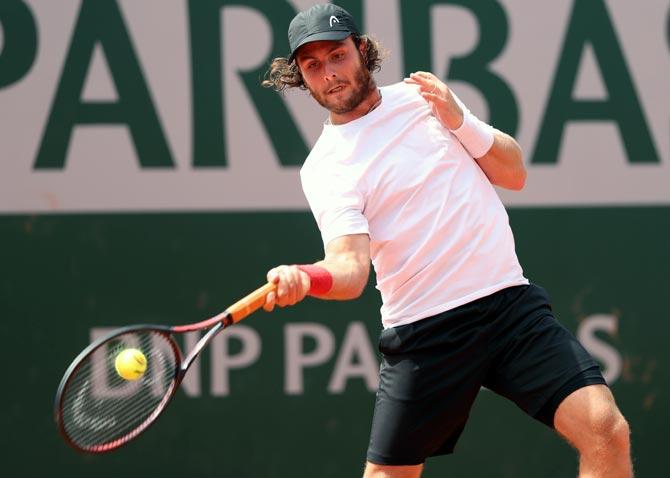 A 1,000km 10-hour roadtrip dash to Paris, squeezed into a small hire car alongside his 88-year-old grandmother, ended in Grand Slam joy for Marco Trungelliti at Roland Garros on Monday -- and a guaranteed 79,000 euros ($92,000) payday.

"We needed grandma for sure," laughed the Argentine, explaining his madcap journey from Barcelona to Paris to make the deadline for a late spot in the men's singles draw.
"Grandma was in the shower (when I heard) so I told her 'we gotta go'... we took 30 minutes to pack all the bags, and then off we went," he told reporters after Monday's win over Australia's Bernard Tomic.

Trungelliti's last-gasp journey from Barcelona, and the travelogue-style photos and videos his wife posted along the way, was the buzz of Paris on the claycourt Grand Slam's second day of action; and his victory proved the icing on the cake.

A 6-4, 5-7, 6-4, 6-4 victory on Court Nine would not have made much of a global impact had it not been for his exploits over the last 24 hours, which turned him into the man of the moment.

That Trungelliti had never expected to be sliding on the regal clay courts of Roland Garros this year makes his victory so special.

That he had to hammer along the road for hour upon hour, squashed in with family members who had only arrived from Argentina days earlier for a holiday, to make the draw on time makes it extraordinary.

Trungelliti said that his brother Andre, mother Susana, and grandmother Daphne, had recently arrived, and that he'd been settling into his break.

"They had hired a small car to see Barcelona and some other places. So when I got the news we just jumped in.

"We left Barcelona at 1pm, arrived in Paris at 11pm or something... so 10 hours. I then slept for 5 hours then arrived at the club at around 7.30am.

"In Argentina, unless you live in Buenos Aires, a 1,000km drive is nothing, so it was all okay," he smiled.

A rule change introduced to prevent injured players from starting matches and then withdrawing mid-contest is what made the Trungelliti tale possible.

He had lost his final-round qualifying match on Friday. But when Nick Kyrgios pulled out of the main draw on Sunday and the next standby player, India's Prajnesh Gunneswaran, was unable to take part because he was already entered in the draw for a low-key event in Vicenza, Trungelliti was on the clock.

The long-haired 28-year-old looked good value for his win over Tomic, and will next face Marco Cecchinato.

Trungelliti has the air of a man on a mission, and with better preparation for that second round match his family might well consider extending their trip to take in a most unlikely chapter.

The smile on his face as he clinched victory, and the grin and thumbs-up gestures he waved around the court as he left the arena showed this is one tennis player who is intent on making the most of a second chance.

"I am feeling so relaxed," he grinned. "For me it is perfect. I lost (in qualifying), I left, I ate barbecue - which for an Argentine is one of the reasons to stay alive - so I am very, very relaxed."

Hairdo goes Paire-shaped for Frenchman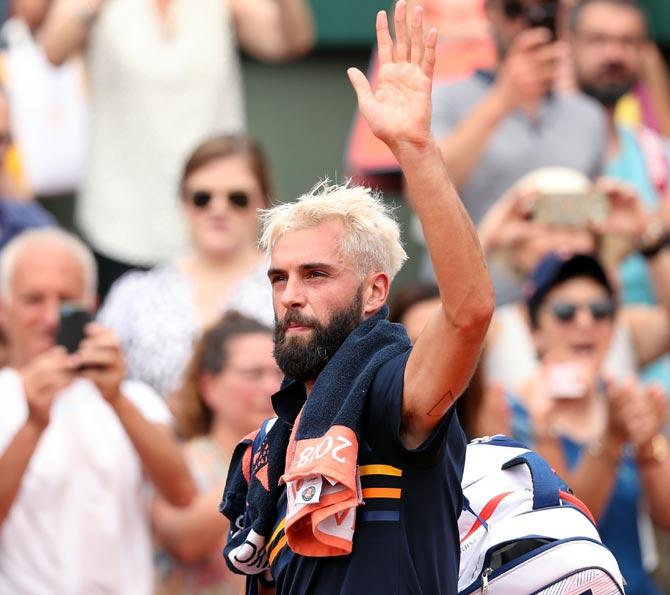 For someone who is often labelled a hothead, it is perhaps no surprise that Benoit Paire's head is burning.

The Frenchman dyed his hair platinum blond last week and even if it did not prevent him from beating Spain's Roberto Carballes Baena in the first round of the French Open on Monday, it is causing him some issues.

"It's a bit difficult to manage when I play... I went from white to yellow to grey," Paire, who is well known for losing his temper on court, told reporters.

"So the hairdresser is trying to arrange things these days. But I'm trying to get out of it. My hair is very damaged. It's burnt. My head is burning."

To make matters worse, Paire is also suffering from stomach problems. "I think I caught a virus two days ago, three days ago," he said.

"I believe I'm not the only one with it. So I had to go to the men's room at the end of the second set. I took two or three medications for my stomach ache."

At least Paire's face is not burning as he has kept his beard intact, and black.

The world number 51 next faces Japanese Kei Nishikori -- in between hairdresser's appointments.