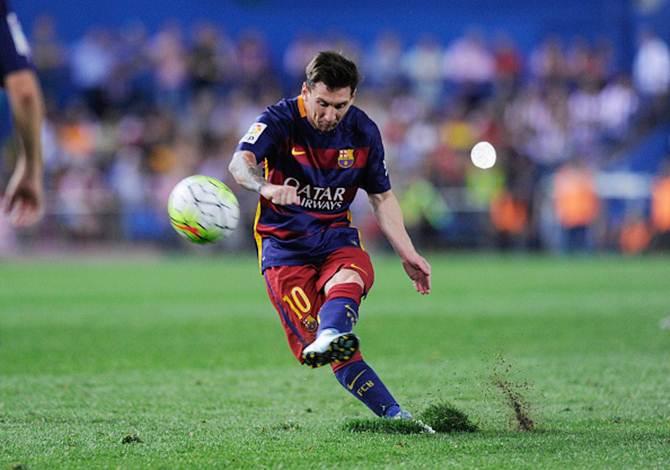 IMAGE: Barcelona's Lionel Messi takes a free-kick during the La Liga match against Atletico de Madrid at the Vicente Calderon Stadium in Madrid, Spain, on September 12, 2015. Photograph: Denis Doyle/Getty Images
Almost everything Lionel Messi does looks effortless but the Barcelona forward insists a lot of practice goes into trying to perfect the free-kicks which have contributed a sizeable chunk of his goals this season.
The 28-year-old Argentine has scored seven goals from direct free-kicks in this year's La Liga, the latest in Sunday's 5-0 triumph over Espanyol.
Messi now has 23 goals from free-kicks in his career at the club, equalling the previous record of former Barcelona star Ronald Koeman.
"Yes, the truth is that we train for this," he said in an interview with ESPN.
"We work on how to move so that the ball goes to the right place and also you learn things over the course of your career."
Messi had to wait until the 2008-09 campaign to take his first attempt from a direct free-kick for Barca, where Ronaldinho, Thierry Henry and Xavi Hernandez used to take set pieces.
IMAGE: Barcelona's Lionel Messi attempts his free-kick over the players' wall during the La Liga match against UD Almeria at Camp Nou, in Barcelona, Spain, on April 8, 2015. Photograph: David Ramos/Getty Images
Koeman's thunderous right-footed free-kick gave Barcelona a win over Sampdoria for their first European title in 1992 but while the Dutchman focused on power, Messi is more about accuracy.
"To be honest, I like to hit the ball over the players' wall but from time to time I like to mix it up a little bit so that the goalkeeper doesn't know where I'm going and I want to keep him confused until I kick," Messi said.
"I think for that reason, I like to keep the goalkeeper in doubt."
Messi has scored 37 goals in 43 games in all competitions this season for Barca and the tally can further swell.
La Liga leaders Barca will attempt to clinch the title on Saturday at Granada and will then play in the Copa del Rey final against Sevilla on May 22.