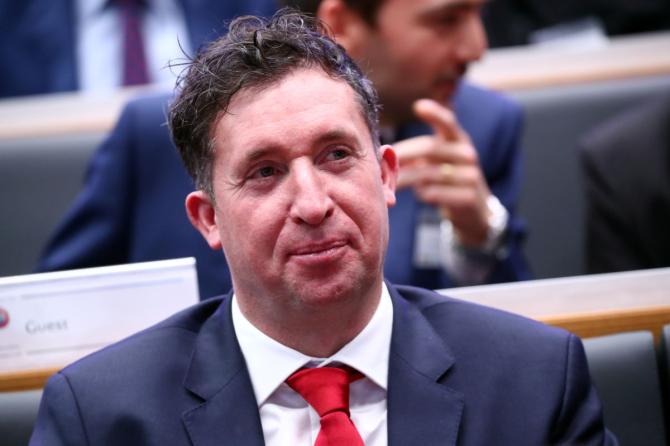 East Bengal football club's high-profile English coach Robbie Fowler was on Wednesday suspended for four matches and fined Rs 5 lakh after being found guilty of making "insulting" remarks against Indian referees at the ongoing ISL but the World Cupper insisted there was nothing racist about his outburst.
Fowler was handed the punishment by the All India Football Federation's (AIFF) disciplinary committee headed by senior lawyer Ushanath Banerjee and comprising Dr Madhav Milan Ghosh, Harsh Vora and Prateek Chadda.
Fowler was in the dock for stating that he was "not sure whether the Referees have an Anti-English thing or Anti East Bengal thing" in the ISL being conducted in Goa.
"The Committee held such utterances and publications are gross inconceivable derogatory and contemptuous aspersions apart from blatant malice on the part of Mr. Fowler and tends to offend the dignity, reputation and image of the Referees in India," read the disciplinary panel's detailed order which is in PTI's possession.
The panel asked him to explain what he meant by his statement.
Fowler, according to the committee, did not respond and "said that he never intended to make any racist remarks and no malice was ever intended."
The Liverpool legend had made the controversial remark after East Bengal's 1-1 draw against a 10-man FC Goa in Margaon on January 29. He was charged under Articles 50.4, 58 and 59.1 of the AIFF Disciplinary Code.
Of these, article 59.1 specifically deals with offences related to racist remarks.
"...sanctions under Article 59(1)(a) of the Disciplinary Code could have been reasonably imposed upon Mr. Fowler, but the Committee withheld such sanction for the time being...," the order read.
The AIFF panel instead "imposed sanctions of suspension of four matches upon Mr. Robert Fowler with immediate effect and a fine of Rs.5,00,000/ as codified under Article 58 of the Disciplinary Code, to be paid forthwith."
East Bengal had, earlier in the day, backed Fowler and denied that he was charged for making allegedly racist remarks.
Fowler has expressed his displeasure with refereeing on more than one occasion in this edition of the league, which is his first.
The 45-year-old had remarked that the referees probably need a "bit of help" after East Bengal were denied at least two penalties in a 0-2 loss against NorthEast United FC in December.
Then, after a goalless draw against Chennaiyin FC in January, he termed the refereeing "disgraceful" and had said he's "fighting battles with the referees every single game and it's an absolute joke".
Fowler had also been suspended for one match after receiving his second caution of the season, which forced him to miss their match against Bengaluru FC on January 9.
The disciplinary committee held that such comments of Fowler were meant to "impute by innuendos that the referees in India may be hostile toward British people and as such gave intentional unjust decisions against East Bengal"
The Committee also directed the AIFF to "closely monitor the conduct and demeanour" of Fowler in all future AIFF games.
It said that even a single case of indiscipline by Fowler would result in "major exemplary sanctions forthwith."
The Englishman also tendered an apology for his behaviour and said his "intentions had been to protect his players and the team".
Mumbai City claw back to beat Kerala Blasters 2-1
Kerala Blasters squandered a lead once again to go down 1-2 to Mumbai City FC in an Indian Super League match at the GMC Stadium here on Wednesday.
Adam Le Fondre's 67th-minute penalty proved decisive after Bipin Singh (46th) had earlier cancelled out Vicente Gomez first-half goal (27th) for the Kerala side.
Kerala made three changes as Bakary Kone, Prasanth Karuthadathkuni and Yondrembem Denechendra found places in starting XI, while for Sergio Lobera's Mumbai, Adam Le Fondre, Vignesh Dakshinamurthy and Cy Goddard were given a start.
The first half was an exciting affair filled with plenty of action, including a goal, missed chances, and some goalkeeping heroics from both teams.
Raynier Fernandes came close in the eighth minute but his shot from outside the box went just over the bar.
Then it was Le Fondre who had one of the best chances of the game. In the 11th minute, he dodged past two Kerala defenders, but his shot from a narrow-angle beat both the keeper and the post.
Le Fondre was handed yet another chance when Hugo Boumous pounced on a loose pass, but the Englishman shot wide.
While the strikers were misfiring for Mumbai, their goalkeeper was at his best.
Amrinder Singh dived fully to deny Kone from scoring a header. He then denied Rahul KP from close and frustrated Jordan Murray too. From the resulting corner, Kerala took the lead.
Sahal Abdul Samad sent in a perfect delivery in the area where Gomez got off his marker and headed in.
Kerala's Albino Gomes was called into action when Bipin evaded a couple of opponents on the flank and crossed to Boumous, but his header was easily saved by the custodian.
The half-time talk from Lobera seemed to have worked on his squad as the Islanders got back into the game soon after the restart.
Le Fondre set Goddard on the right as the latter evaded a tackle from opponents and attempted a shot.
However, it took a deflection and went towards Bipin at the far post, who found the back of the net from a tight angle.
Kerala kept pressing but Amrinder stood strong. The keeper continued to frustrate their opponents as he denied Murray and Rahul once again.
At the other end, Mumbai were awarded a penalty when Le Fondre was fouled in the box by Costa Nhamoinesu.
This time, Le Fondre didn't make a mistake as he smashed the ball past Albino.
Mumbai managed to maintain their one-goal lead till the final whistle to extend their lead at the top.
Table-toppers Churchill Brothers and Aizawl FC play out goalless draw
Table-toppers Churchill Brothers were held to a goal-less draw by former champions Aizawl FC in an I-League match at the Kalyani Municipal Stadium in Kalyani on Wednesday.
Both the teams create scoring chances but the match ended in a stalemate as neither side was able to convert inside the box.
With the draw, Churchill Brothers retained their pole position, while Aizawl FC can slip down the table, depending on how TRAU fare on Thursday.
Shortly before kick-off, Churchill Brothers' head coach Fernando Varela was awarded the Coach of the Month award for January.
After sacking Baxter, Odisha FC announce Gerald Peyton as interim head coach
Odisha FC on Wednesday announced the appointment of Gerald Peyton as their interim head coach till the end of the ongoing Indian Super League (ISL) after sacking Stuart Baxter for making unsavoury comments against the referees.
Peyton was assistant to Baxter, who was booted out for making comment on rape to criticise a refereeing decision after the team's loss to Jamshedpur FC on Monday.
"I have agreed to become the Odisha FC Interim Head Coach for the rest of the games, we have six games left. I am going to go with a lot of hardwork that's been done already by myself and Stuart (Baxter)," Peyton said in a statement from Odisha FC.
"I am going to carry on and try and win as many games as possible with the young players, with the team that we have and the way we have been playing."
"Hopefully, we can give the fans a lot of good things to be proud of as we have been grateful for their support so far."
On Tuesday, Odisha FC sacked Baxter with immediate effect and issued a public apology after the coach said "one of my players will have to rape someone or get raped himself to get a penalty."
Odisha FC lost a tightly-contested match, leaving Baxter displeased by the refereeing. Odisha made a late penalty claim after Diego Mauricio was tripped by TP Rehenesh in the penalty area but it was turned down by the referee.
"You need decisions to go your way, and they didn't. I don't know when we are going to get our penalty. One of my players will have to rape someone or get raped himself if he was going to get a penalty...," Baxter had said in the post-match interview.