Newly-crowned Asian champion Vikas Gowda finished a creditable fourth in the ninth leg of the prestigious IAAF Diamond League athletics series in Paris.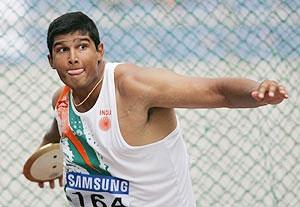 Gowda hurled the iron disc to a distance of 64.45m which he achieved in his third attempt at Stade de France on Saturday.
He was second after the third round but slipped to fourth after a foul throw in the next round. Gowda had won the Asian Championships gold in Pune on Thursday with a best throw of 64.90m.
Germany's Olympic and world champion Robert Harting won the gold with 67.04m in still wind conditions which did not provide much assistance for the throwers. He took the lead straightaway with 64.97m, extended his advantage with 66.80m in round three and threw 67.04m with his penultimate effort.
Iran's 2012 London Olympic Games silver-medallist Eshan Hadadi was second with 65.53m. Estonia's 2008 Beijing Olympic winner Gerd Kanter was third with 65.30m.