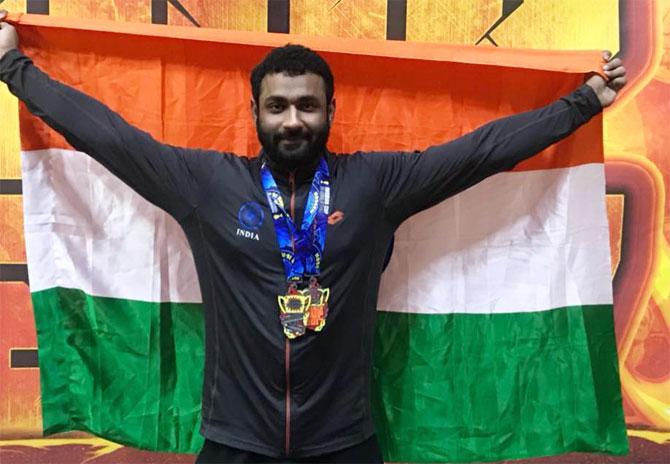 IMAGE: India's powerlifting world champion Saksham Yadav succumbed to his injuries on Sunday. Photograph: Saksham Yadav/Facebook
Powerlifting world champion Saksham Yadav succumbed to his injuries following a road accident due to fog conditions this morning at Sindhu border in Delhi on Sunday.
He was one among four powerlifters who were killed -- one other injured -- in the accident that occurred at around 3 am on Sunday.
The six athletes were immediately shifted to Raja Harishchandar Hospital in Narela, where four were declared brought dead. The other two are said to be in critical condition.
The deceased have been identified as Tikamchand, Saurabh, Yogesh and Harish Roy. All four are residents of Timarpur, North Delhi.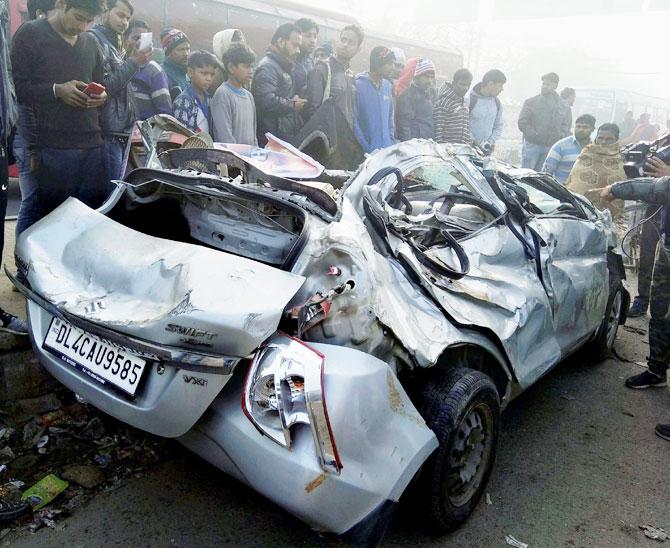 IMAGE: The mangled remains of the car that was ferrying the six powerlifting athletes. Photograph: PTI
The injured have been identified as Saksham and Rohit.
Saksham a national level player has been shifted to MaxHospital while Rohit is admitted in LokNayakJaiPrakashNarayanHospital.
According to preliminary investigation, the car was driven at a high speed. Some bottles were also found in the car indicating the possibility of drunken driving.
Tikamchand's sister told ANI, "He had called last night to say he was coming home. Early morning hours we came to know about the accident."
Sports Minister Rajyavardhan Singh Rathore expressed grief over the incident.
"Demise of 4 young power lifting athletes in a road accident has deeply saddened all of us @indiasports. My heartfelt condolences to their families. May God give all of them the strength to bear the loss," Rathore tweeted.
A probe in the matter is underway.