Formula One supremo Bernie Ecclestone could have 22 races jostling for a slot next season but teams have made clear they want the calendar limited to 20.
The current championship has 19 rounds but Austria is returning in 2014 after an 11-year absence while new races in New Jersey and Russia's Black Sea resort of Sochi have also been pencilled in.
Some have question marks over them, however, and Ecclestone told Reuters at the Hungarian Grand Prix that 20 races would be "a good amount".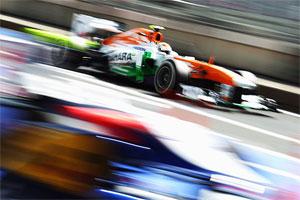 That said, the 82-year-old added that "everything is possible" and the calendar could go above 20 "if we have to".
Formula One has never had more than 20 rounds - and in the 1950s there were as few as seven - and team principals indicated further expansion could be a step too far at a time when their personnel and resources are already stretched.
"There are locations that may be in doubt and therefore I think having some backups isn't a bad idea," said McLaren's Martin Whitmarsh.
"I don't know whether the calendar will grow to 22. Twenty two would certainly be incredibly tough on the teams...we used to think going beyond 16 was tough and it is."
Much of the recent expansion has been outside of Europe, with the return of Austria a rare exception, and that has put added strain on staff away from home for long periods.
More than 20 races could force teams to hire more people.
"That's a big concern to us -- 22 races -- because it changes staff levels dramatically, as well as (more) in-season testing," said Marussia principal John Booth, whose team have the smallest budget. "It's okay having new races, but maybe one or two will fall away."
Sauber's Indian-born principal Monisha Kaltenborn, whose Swiss team has recently acquired new Russian partners, told Reuters that the sport needed to beware of diluting its impact with too many races.
"I think these are issues we have to look at clearly," she said. "Going above 20 would be too many."
Mercedes principal Ross Brawn agreed the 20 races held last year had been challenging enough.
"I think you reach a point where, if you go beyond it, you have to look at rotating people, crews and that gets very difficult particularly with engineers who are very closely linked with their drivers," he said.
"With some of the others, mechanics and technicians, we can do that. So 20 races I think is the sensible limit."
QUESTION MARKS
Drivers, many of whom would happily race every weekend and in the old days used to fill in periods between grands prix by competing in other series, also fell into line.
"Twenty is enough races," said Red Bull's triple world champion Sebastian Vettel, who is close to Ecclestone. "Maybe for us it's possible to have another one here or there but especially for the teams, in terms of logistics and for team staff, I think it's already a big effort.
"Very little time, very few weekends to spend at home with their families, with their kids. I think you mustn't forget about that."
Whitmarsh would not discuss which races might go but there have been doubts about New Jersey and India while Germany's alternating circuits have had their financial difficulties. South Korea's Mokpo, a shipbuilding centre hours from Seoul, draws few fans and would not be missed by many paddock insiders.
"There have been some question marks," added the McLaren boss. "That's why I don't personally think there are going to be more than 20 next year."
New Jersey was supposed to be on the 2013 calendar but was postponed to give organisers more time to sort out the street circuit and obtain permissions but lingering scepticism remains within the sport, even if it would be a highly popular venue.
Indian Grand Prix organisers issued a statement last month attacking "baseless and malicious" rumours that their 2014 race near New Delhi could be cancelled.
The most recent speculation has focused on teams' concerns about Indian tax demands.
"I think it is up to the promoter to negotiate and sort out the issues around the Indian Grand Prix and we are pretty optimistic that everything will be OK," commented Mercedes motorsport head Toto Wolff.
Photograph: Paul Gilham/Getty Images