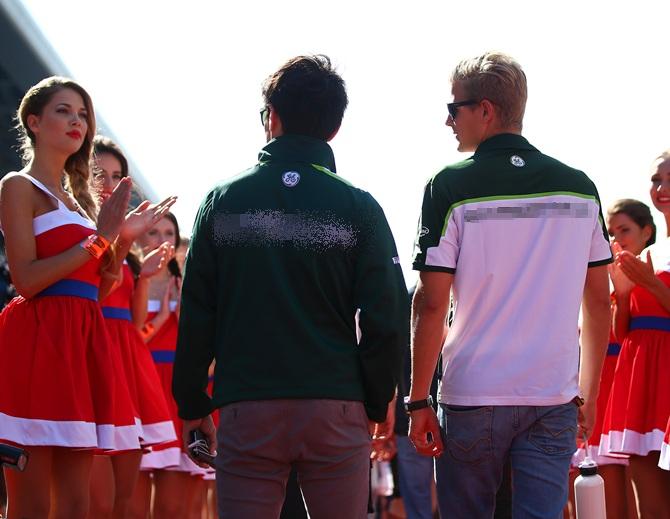 Formula One drivers walk out for the drivers' parade before the Russian Formula One Grand Prix in Sochi. Photograph: Mark Thompson/Getty Images
Russian Grand Prix winner Lewis Hamilton might cover the distance in a matter of minutes but it has taken more than half a century for Mercedes to add their names to the likes of Ferrari, McLaren and Williams.
Hamilton wins as Mercedes take constructors' title
Ferrari honours injured driver Bianchi
If the late Argentine great Juan Manuel Fangio and his 1955 team mate Stirling Moss never experienced a similar success, despite finishing the season first and second, that is only because the championship did not exist until 1958.
Mercedes had pulled out of the sport by then, horrified by the 1955 Le Mans disaster that killed more than 80 spectators.
Respect to French driver Jules Bianchi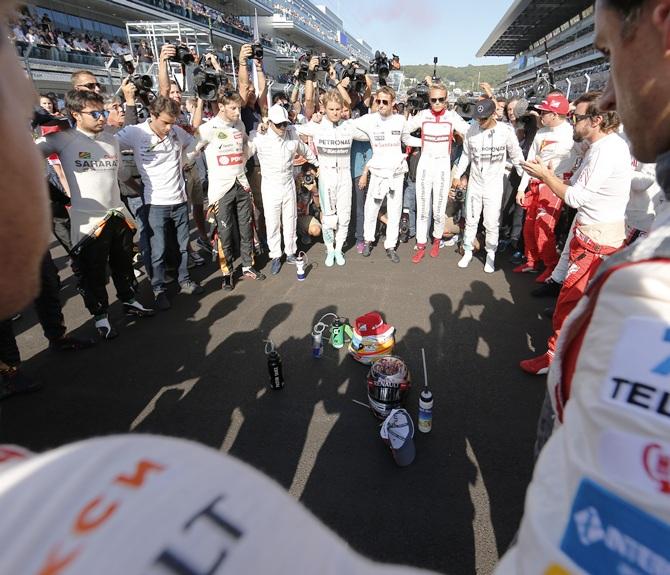 Formula One drivers pray for Marussia Formula One driver Jules Bianchi of France who had an accident in the previous race, before the first Russian Grand Prix in Sochi. Photograph: Valdrin Xhemaj/Reuters
They did not return until 2010, taking over the Brawn GP team that had won both titles in 2009 and its Brackley headquarters.
"I have to tell you I'm a little emotional," said the team's non-executive chairman Niki Lauda, himself a triple world champion.
The championship came as no surprise, with team staff swiftly donning special T-shirts to mark the occasion just as Red Bull have for the past four years, and the champagne glasses lined up in the hospitality unit.
If the celebrations were mild compared to some witnessed in the past, that was also out of respect to French driver Jules Bianchi who is critically ill in hospital after his crash in Japan last weekend.
Good moment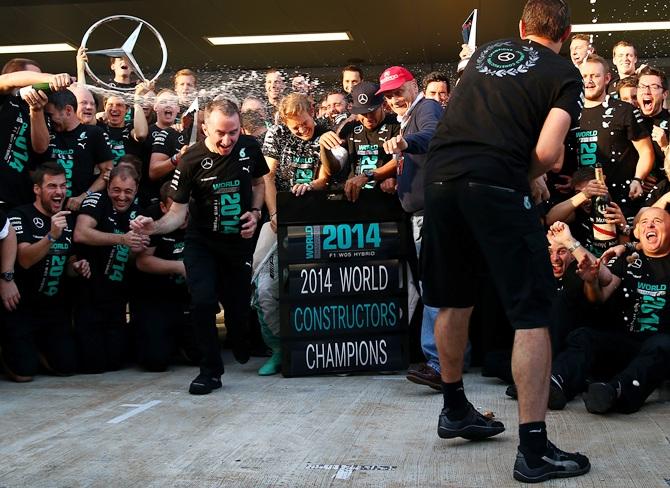 Paddy Lowe the Executive Director of Mercedes GP, Lewis Hamilton of Great Britain and Mercedes GP, Nico Rosberg of Germany and Mercedes GP, Mercedes GP Executive Director Toto Wolff and Niki Lauda, non-executive chairman of Mercedes GP celebrate with the team after becoming the 2014 World Constructors Champions during the Russian Formula One Grand Prix at Sochi Autodrom. Photograph: Mark Thompson/Getty Images
With three races remaining and the drivers' title still finely balanced between Hamilton and Nico Rosberg, just 17 points apart, the real party can wait even if the satisfaction was evident.
"It's a good moment," declared Mercedes motorsport head Toto Wolff after Hamilton led team mate Rosberg to the team's ninth one-two finish of the season and 13th win in 16 races.
"It's incredible. I have to pinch myself sometimes we are part of the Mercedes-Benz history. We won the first constructors' title for Mercedes-Benz ever and I should just feel proud, honoured to be part of the team."
Wolff paid tribute to former principal Ross Brawn, who left at the end of last year, for laying the foundations and said it was his trophy too.
"He played such an important role in the team, the steps which were done in 2012, the people who joined us, and we constantly ramped our game up.
"We made the right decisions, we got the right resources, the big boys back in Stuttgart understood what it needed and since then we were on an upwards slope. Today is the result of all that."
Red Bull have won both titles in every year since 2009, a run so long it extends back to before more than half the drivers on Sunday's grid had made their Formula One debuts.
"It will be going just up the road to Brackley and congratulations to Mercedes on what they have achieved this season, they have been phenomenal," said Red Bull principal Christian Horner.
"We will be working hard to take the trophy back the 12 miles to us in 12 months' time."